Antibody therapeutics for COVID-19
In 2019, the SARS-CoV-2 coronavirus sparked a global pandemic that is likely to continue into 2021. Effective therapeutics that treat the symptoms of the disease and prevent or treat the underlying viral infection are critically required. To meet this need, the global biopharmaceutical industry is evaluating over 50 monoclonal antibody (mAb) therapeutics developed for other diseases that may treat COVID-19 symptoms and has identified, optimised and initiated clinical studies of mAbs that target the virus. If clinical study results are positive, emergency use authorisations may be granted for broad use of these targeted agents. Here, Janice Reichert, Executive Director of The Antibody Society, provides an overview of potential antibody therapeutics for COVID-19.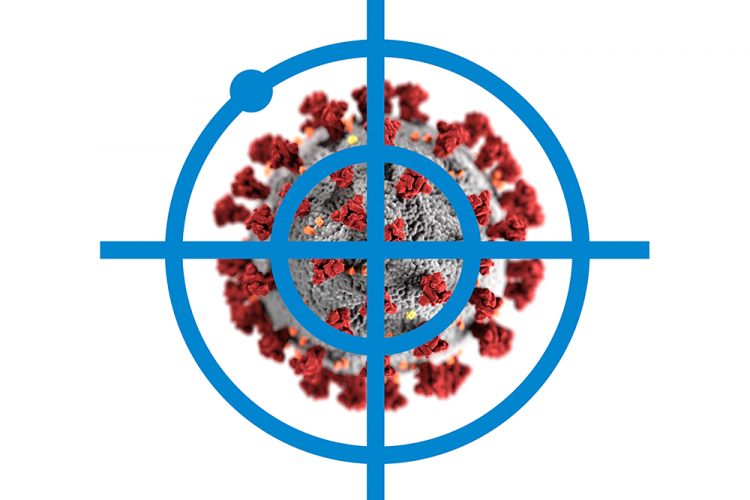 Coronaviruses are enveloped positive-sense single-stranded RNA viruses that cause respiratory diseases in humans, such as Middle East respiratory syndrome (MERS) and severe acute respiratory syndrome (SARS). The current COVID-19 pandemic, which is likely to continue into 2021, is caused by the SARS-CoV-2 coronavirus. Infection in humans is initiated through exposure of the respiratory tract to the virus, which enters cells by binding angiotensin-converting enzyme 2 (ACE2), found on the cell surface, via the viral Spike (S) protein. While some individuals exposed to the virus may have no or only mild symptoms of COVID-19, others die from severe effects caused by infection, such as tissue damage resulting from hyper-inflammation and cytokine storm-induced acute respiratory distress. Effective drugs to treat symptoms of the disease are urgently needed, as are agents that block the virus from entering cells and replicating.
Repurposed antibodies to treat COVID-19 symptoms
As detailed on clinicaltrials.gov, over 2,800 clinical trials have been initiated to identify key characteristics of the disease and the effects of investigational and approved drugs. Study results have highlighted the role of immune system components, such as interleukins (IL), granulocyte-macrophage colony-stimulating factor (GM-CSF) and interferon, in the pathology of COVID-19.1 Chen et al. reported that interleukin-6 (IL-6) levels were significantly elevated in critically ill COVID-19 patients2 and Zhou et al. have shown that SARS-CoV- 2 infection leads to the activation of T lymphocytes, which go on to generate cytokines such as GM-CSF.3 Moreover, Tang et al. identified abnormal coagulation as a factor in poor patient outcomes.4 These results suggest that use of antibodies to block relevant targets such as IL-6 or GM-CSF, or their receptors, may potentially limit SARS-CoV-2-related immunopathology.
Over 2,800 clinical trials have been initiated to identify key characteristics of the disease and the effects of investigational and approved drugs"
Over 50 mAbs originally developed for other diseases, including many that target cytokines or otherwise modulate the immune system, are being evaluated in clinical studies as possible treatments for the symptoms of COVID-19. To date, two products (levilimab and itolizumab) have been granted emergency use authorisations by regulatory authorities. Levilimab (Ilsira®), a human mAb targeting membrane-bound and soluble forms of IL-6 receptor, was registered in Russia via a fast-track mechanism in early June 2020 for treatment of patients with severe COVID-19. Developed by Biocad, levilimab was originally created to treat rheumatoid arthritis. Itolizumab (Alzumab®), a humanised mAb targeting CD6, was granted restricted emergency use in India for the treatment of cytokine release syndrome in COVID-19 patients with moderate to severe acute respiratory distress syndrome (ARDS). Developed by Biocon, itolizumab was previously approved in India for plaque psoriasis. Antibody therapeutics currently in late-stage clinical studies for COVID-19 include anti-IL-6 receptor tocilizumab, which is approved for treatment of CAR T cell-induced severe or life-threatening cytokine release syndrome and other diseases. Tocilizumab is being evaluated in over 60 clinical studies of COVID-19 patients, three of which are Phase III studies sponsored by Genentech or Hoffmann-La Roche. Other previously approved antibodies are being repurposed as possible treatments for COVID-19 symptoms, such as anti-interferon gamma emapalumab, anti-IL-1beta canakinumab and anti-C5 ravulizumab. Results of late-stage clinical studies evaluating the effects of these antibodies in COVID-19 patients are expected by the end of 2020.
Anti-SARS-CoV-2 antibodies in development
Working at extraordinary speed, the global biopharmaceutical industry has also developed novel antibodies, designed to bind to and neutralise SARS-CoV-2, that can be used in both treatment and prophylactic settings. Discovery of these molecules involves three main approaches: 1) screening B cells from convalescent patients; 2) immunisation of animals with SARS-CoV-2 antigens such as the S protein; and 3) in vitro library screening. Using these approaches, organisations have identified thousands of antibodies that bind to SARS-CoV-2 during their screening campaigns. In less than six months, several companies, including Regeneron and Eli Lilly & Co., have optimised and performed pre‑clinical assessments of lead molecules, manufactured drug product formulated for either intravenous or subcutaneous administration and initiated clinical studies. As of early August, clinical studies of eight anti-SARS-CoV-2 antibodies are recruiting patients and a clinical study of an additional molecule is pending (Table 1). Based on data in the public domain, all anti-SARS-CoV-2 antibodies currently in development target the viral S protein.
Table 1: Anti-SARS-CoV-2 monoclonal antibodies in clinical studies
Sponsors

Drug code

Most advanced study

All trial IDs

Est. start

Est. primary completion

Junshi Biosciences /

Eli Lilly and Company

JS016

Phase I

6/5/2020

12/11/2020

Tychan Pte. Ltd.

TY027

Phase I

6/9/2020

Oct 2020

Brii Biosciences

BRII-196

Phase I

NCT04479631

7/12/2020

Mar 2021

Brii Biosciences

BRII-198

Phase I

NCT04479644

7/13/2020

Mar 2021

Celltrion

CT-P59

Phase I

NA

7/15/2020

NA

Sinocelltech Ltd.

SCTA01

Phase I

NCT04483375

7/25/2020

11/20/2020

Sorrento Therapeutics

COVI-GUARD (STI-1499)

Phase I

NCT04454398 (pending)

Aug 2020

Jan 2021

AbCellera /

Eli Lilly and Company

LY-CoV555, LY3819253

Phase III

NCT04411628 (Phase I); 

NCT04427501 (Phase II)

NCT04497987 (Phase III)

5/28/2020; 6/13/2020; 8/3/2020

8/23/2020; 9/15/2020;

3/8/2021

Regeneron

REGN-COV2 (REGN10933 + REGN10987)

Phase III

NCT04425629 (Phase1/2); 

NCT04426695 (Phase I/2);

NCT04452318 (Phase III)

6/9/2020; 6/12/2020;

6/30/2020

11/21/2020; 3/13/2021; 4/11/2021
Note: Data presented are current as of 5 August, 2020. Information for anti-SARS-CoV-2 antibodies is available at www.antibodysociety.org/covid-19-biologics-tracker/. Study details are available at clinicaltrials.gov.
Of the anti-SARS-CoV-2 antibodies in clinical studies at present, the most advanced are the product candidates from Regeneron (REGN-COV2, a mixture of REGN10933 and REGN10987) and Eli Lilly & Co. partnered with AbCellera (LY-CoV555). REGN-COV2 is being evaluated in two Phase I/II studies assessing the safety, tolerability and efficacy of the antibodies for the treatment of hospitalised or ambulatory patients with COVID-19, while the Phase III study will assess the efficacy of preventing SARS-CoV-2 infection in household contacts of individuals infected with SARS-CoV-2. In addition to a Phase I study, LY-CoV555 is undergoing evaluation in the Phase II BLAZE-1 study of patients recently diagnosed with COVID-19 and the Phase III BLAZE-2 study. This trial will investigate residents and staff who live or work at facilities that have had a recently diagnosed case and who are now at a high risk of exposure and will evaluate the efficacy and safety of LY-CoV555 for the prevention of SARS-CoV-2 infection. Positive results from these studies may allow both candidates to be used for prophylaxis and treatment of SARS-CoV-2 infection in the future.
While the rapid progress of the clinical-stage molecules is remarkable, the size of the pre-clinical pipeline is astonishing. Anti-SARS-CoV-2 antibody therapeutics from over 80 organisations are currently in pre-clinical development and based on publicly disclosed plans, more that 20 of these molecules may enter clinical studies by the end of 2020. Due to the substantial global need for products that can prevent and treat COVID-19, many initiatives aimed at developing antibody therapeutics are required, although it must be noted that not all candidates will be successful in clinical studies.
Emergency use authorisations
Assuming the results of clinical studies demonstrate that a product candidate is safe and effective for prophylaxis or treatment of COVID-19, the sponsoring organisation may apply for an emergency use authorisation (EUA) from the US Food and Drug Administration (FDA). Due to the public health emergency that exists in the US, the FDA has the authority to allow use of unapproved medical products or unapproved uses of approved medical products to diagnose, treat or prevent serious or life-threatening diseases or conditions caused by SARS-CoV-2 infections, when there are no adequate, approved and available alternatives. The EUA mechanism is intended to speed the process of regulatory review of non-clinical and clinical data, but limitations to the scope and duration of the authorisations, as well as specific conditions, will apply. An EUA from the FDA is thus not equivalent to a standard marketing approval. To date, no mAb therapeutics have been granted authorisation for emergency use within the US. However, regulatory agencies in other countries have similar mechanisms to accelerate reviews, which, in the cases of Russia and India, enabled the emergency use of levilimab and itolizumab, respectively, for treatment of COVID-19 patients.
Lessons from the pandemic
The current pandemic has had devastating health and economic effects across the globe, but the urgent need for effective medicines for COVID-19 has provided a unique opportunity for innovation in the biopharmaceutical industry. These innovations are resulting in new drugs for COVID-19, but also the use of new and faster approaches to drug discovery, manufacturing, non-clinical assessments and clinical trials. Moreover, the current COVID-19 pandemic has highlighted the need for a substantial increase in infectious disease research, which will help prepare the world for the next pandemic.
About the author
Dr Janice M Reichert is an internationally-recognised expert in the development of antibody therapeutics. She is Executive Director of The Antibody Society, a non-profit association representing individuals and organisations that engage in antibody-related research or development. She is also Founder and Editor-in-Chief of mAbs, a peer-reviewed, PubMedindexed biomedical journal that focuses on topics relevant to antibody research and development and Managing Director of Reichert Biotechnology Consulting LLC, a pharmaceutical business intelligence research firm. Janice writes frequently on development trends for antibody therapeutics, including the annual 'Antibodies to watch' article series published in mAbs and she has presented her research results as an invited speaker at conferences held worldwide.
References
Rizk et al. Pharmaco-Immunomodulatory Therapy in COVID-19. Drugs (2020). https://doi.org/10.1007/s40265-020-01367-z
Chen et al. Detectable serum SARS-CoV-2 viral load (RNAaemia) is closely associated with drastically elevated interleukin 6 (IL-6) level in critically ill COVID-19 patients. Posted March 3, 2020. https://www.medrxiv.org/content/10.1101/2020.02.29.20029520v1
Zhou et al. Aberrant pathogenic GM-CSF+ T cells and inflammatory CD14+CD16+ monocytes in severe pulmonary syndrome patients of a new coronavirus. Posted Feb 20, 2020. https://www.biorxiv.org/content/10.1101/2020.02.12.945576v1
Tang et al. Abnormal coagulation parameters are associated with poor prognosis in patients with novel coronavirus pneumonia. J Thromb Haemost. (2020) https://www.ncbi.nlm.nih.gov/pmc/articles/PMC7166509/
Related topics
Antibodies, Biologics, Biopharmaceuticals, Disease Research, Drug Repurposing, Immunology, In Vitro, In Vivo, Protein, Proteomics, Research & Development, Screening, Vaccine