First patient enrolled in new Phase 3 trial program investigating a once-daily dosing regimen of ISENTRESS® (raltegravir)
MSD announced that the first patient has been enrolled in the company's global Phase 3 clinical trial, ONCEMRK…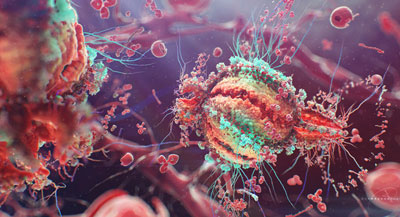 Merck (NYSE:MRK), known as MSD outside the United States and Canada, today announced that the first patient has been enrolled in the company's global Phase 3 clinical trial, ONCEMRK. ONCEMRK is assessing a once-daily investigational formulation of ISENTRESS® (raltegravir), known as reformulated raltegravir, as part of combination HIV therapy for treatment-naïve HIV-1-infected adults. ISENTRESS film-coated tablets are currently administered twice daily in accordance with the approved Prescribing Information.
"ISENTRESS has been a significant component of first-line HIV-1 treatment for more than six years, as a twice-daily component of antiretroviral therapy," said Jürgen Rockstroh, M.D., University of Bonn, Bonn-Venusberg, Germany, a clinical investigator on this study. "We look forward to advancing our understanding of this new formulation of once-daily raltegravir with this new trial."
ISENTRESS is an integrase inhibitor indicated in combination with other antiretroviral (ARV) agents for the treatment of HIV-1 infection in patients four weeks of age and older. The use of other active agents with ISENTRESS is associated with a greater likelihood of treatment response. Severe, potentially life-threatening and fatal skin reactions have been reported with ISENTRESS. Additionally, during the initial phase of combination ARV treatment, immune reconstitution syndrome may occur. (See Important Selected Safety Information below).
The ONCEMRK trial is a multicenter, double-blind, randomized, active-controlled study evaluating the safety, efficacy, tolerability and pharmacokinetics of reformulated raltegravir 1200 mg (dosed as two 600 mg tablets) once daily, compared with ISENTRESS 400 mg twice daily, both in combination with once-daily tenofovir/emtricitabine over 96 weeks. The primary endpoint of the non-inferiority study is the proportion of patients achieving viral suppression (<40 copies/mL) at Week 48, which the company estimates will occur in the first half of 2016. Each patient in the study will receive treatment for approximately 96 weeks. To learn more about the ONCEMRK trial, contact MSD at 1-888-577-8839 or visit www.merck.com/clinical-trials. Additional details can also be found online at www.clinicaltrials.gov/ct2/show/NCT02131233.
"We remain dedicated to investigating new applications for ISENTRESS and to further expanding our knowledge of this HIV-1 treatment," said Peter Sklar, M.D., M.P.H., director, Clinical Research, MSD Research Laboratories. "MSD is proud to mark this notable milestone in the development of once-daily raltegravir and we look forward to continued patient enrollment worldwide over the coming months."
More than 160 centers in more than 25 countries are expected to participate in the ONCEMRK trial in the coming months. MSD is planning for the program to include approximately 750 patients worldwide.
Investigations of Raltegravir Once Daily
Reformulated raltegravir is a novel non-poloxamer based formulation. Based on the results of several Phase 1 studies, reformulated raltegravir has shown the potential to be investigated further for once daily use.
Data from the previous Phase 3 trial of raltegravir once daily, QDMRK, have contributed to the understanding of raltegravir pharmacokinetics and pharmacodynamics. QDMRK evaluated the long-term safety, tolerability and efficacy of a once-daily 800 mg ISENTRESS dose in a combination regimen compared with a twice-daily 400 mg ISENTRESS dose in combination. The once-daily arm of QDMRK studied the ISENTRESS poloxamer formulation given as two 400 mg tablets simultaneously. Results showed the primary endpoint of non-inferiority was not met, with 83 percent of treatment-naïve adult HIV-1 infected patients achieving viral suppression (<50 copies/mL at Week 48) with the dosing regimen of 800 mg raltegravir once daily, compared with 89 percent of patients treated with ISENTRESS 400 mg twice daily. The safety and tolerability profiles of the two regimens were generally similar in the study and similar to the Prescribing Information for ISENTRESS.