Ground-breaking research in continuous fight against AMR. Stay updated at the SMi's event this March
The BBC recently reported on US's scientists discovery of a new family of antibiotics in soil samples. The natural compounds could be used to combat hard-to-treat infections, the team at Rockefeller University hopes.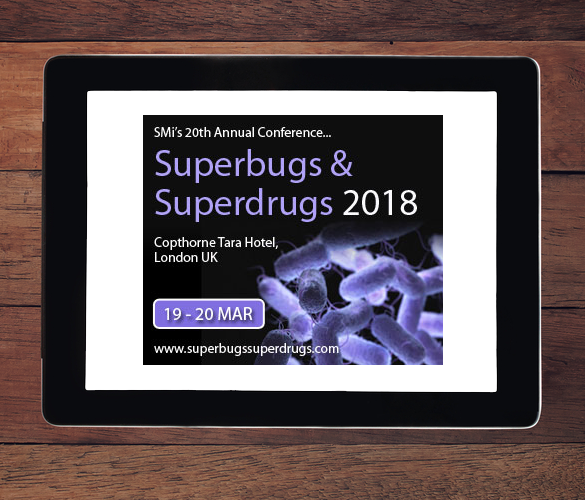 Tests show the compounds, called malacidins, annihilate several bacterial diseases that have become resistant to most existing antibiotics, including the superbug MRSA. Experts say the work, published in Nature Microbiology, offers fresh hope in the antibiotics arms race.*
It is imperative for medical experts and drug discovery specialists to stay on top of the latest clinical advancements, developments and industry initiatives related to antimicrobial resistance.
SMi's 20th annual conference on Superbugs and Superdrugs (19 – 20 March 2018, London) will gather experts representing government bodies and top organisations to share their insights with you.
Get your ticket on the website http://www.superbugssuperdrugs.com/DTR
New interview released
Mark Albrecht, Health Scientist, HHS/ASPR/BARDA has participated in a comprehensive interview and here is the snapshot of what he has to say.
SMi: What do you believe are the biggest challenges associated currently with tackling the threat of antimicrobial resistance? 
Mark Albrecht: There are a variety of challenges… however, there has been greater discussion regarding the lower commercial returns antibiotics generate compared to other therapeutic areas such as cancer or heart disease. Given that antibiotic development is financially challenging with an uncertain return on investment (ROI) it is clear that both push mechanisms (CARB-X, GARD-P, NIAID, Wellcome Trust, BARDA, etc.) and pull incentives are necessary. In particular, pull incentives will ensure companies have a predictable ROI for developing these drugs that society requires, but undervalues.
Full interview is available on the Download Centre http://www.superbugssuperdrugs.com/DTR
An independent report looking at the pharma industry's efforts to tackle AMR says the sector is doing "better than expected" but is still not on track to avert a potential healthcare crisis.**
Mark Albrecht's presentation at the event will be looking at the ways to incentivize antibacterial research and development.
New speaker
John Rex, Chief Medical Officer at F2G Ltd and Emmanuelle Coutanceau, Partner at Novo Holdings join the speaker line-up at the Superbugs and Superdrugs Conference.
In his presentation John Rex will look into the issues of funding, including updates on CARB-X initiative.
* BBC News – New antibiotic family discovered in dirt, 13 February 2018
**Pharmaceutical Market Europe – February 2018, page 9