MabVax Therapeutics' HuMab 5B1 antibody successfully clears important early toxicology testing
Posted: 6 May 2015 | Victoria White
The final report on toxicology testing of HuMab 5B1 shows that it had no significant adverse findings even at the highest dosage levels tested…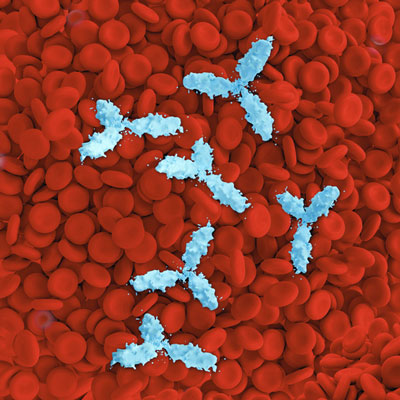 MabVax Therapeutics has received the final report on toxicology testing of its HuMab 5B1 antibody, which was completed by a leading independent contract research organisation. 
The report detailed that the antibody, given in either a single dose or repeated doses, had no significant adverse findings even at the highest dosage levels tested. These results further validate the Company's decision to advance HuMab 5B1 into Phase 1 clinical trials before the end of 2015.
MabVax Therapeutics moving forward with plan to advance HuMab 5B1 into the clinic later this year
David Hansen, President and CEO of MabVax Therapeutics, explained, "We challenged the non-human primates in this acute dose range finding study with multiple dose levels to assess drug pharmacokinetics, as well as with repeated doses of the antibody to identify any adverse toxicology signals.  These studies were conducted in the most relevant animal models with material produced by our GMP manufacturing partner.  The antibody as tested is representative of the clinical supply material scheduled for delivery later this year.  As the final report provided evidence that there were no significant adverse findings, we are moving forward with our plan to enter the clinic later this year. Because the HuMab 5B1 antibody is fully human recovered from patients undergoing cancer vaccine treatment at Memorial Sloan-Kettering Cancer Centre, we believe that these antibodies reduce the likelihood of unwanted immunogenicity and cross reactivity.  These results continue to build the body of evidence that makes our HuMab 5B1 product a valuable asset."
The clinical development plan calls for two Phase I clinical trials to begin late this year.  One programme will determine the safety and potential utility of HuMab 5B1 in subjects with metastatic pancreatic cancer as a single agent or in combination with the current standard of care.  The second program will be aimed at demonstrating the utility of 89Zr-HuMab 5B1, our radiolabeled HuMab 5B1 antibody, as a next generation PET imaging agent for the diagnosis and management of pancreatic cancer.
Mr. Hansen continued, "We are excited about the potential of utilizing a therapeutic antibody in combination with a companion diagnostic agent.  We believe this unique dual-product development approach is applicable to other cancers utilizing our HuMab 5B1 antibody as well as with follow-on antibodies already under development in our preclinical pipeline."