Rhomboid protease role observed using dynamic imaging
Researchers have been able to watch rhomboid proteases in a native lipid environment which may be useful for the development of Parkinson's and malaria medication.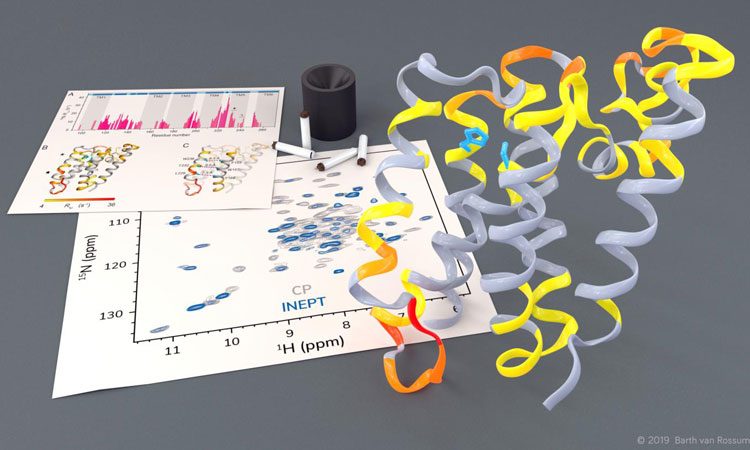 Investigation of the rhomboid protease GlpG by solid-state NMR (credit: Barth van Rossum, FMP).
Using solid-state NMR spectroscopy, researchers have been able to observe rhomboid proteases at work in a native lipid environment which may be useful for the development of new medication for conditions such as Parkinson's disease and malaria. 
Some proteins sit in the cell membrane, among them the family of rhomboid proteases. Given that these intramembrane proteases are involved in many biological processes and also play a key role in diseases such as Parkinson's, diabetes, cancer and malaria, they are highly clinically relevant.
The research group led by Professor Adam Lange from the Leibniz-Forschungsinstitut für Molekulare Pharmakologie (FMP) in Germany has now been able to investigate rhomboid proteases for the first time. 
The researchers were able to observe how certain parts of the protease move and they noticed that, in order to cleave other proteins, a gate opens briefly to let these substrate proteins enter the active centre of the protease.
The study sets a base for an even better characterisation of rhomboid proteases and the knowledge gained will be useful for investigating how they can pharmacologically influence the clinically relevant membrane proteins.
Lange and his team now want to search for substances to inhibit errant rhomboid proteases.
The study was published in the Journal of the American Chemical Society.