CLR01 targets HIV and prevents semen from promoting infection
Posted: 18 August 2015 | Victoria White
Researchers have discovered a small molecule, known as CLR01, that attacks the HIV virus and disrupts the amyloids in semen that promote HIV infection…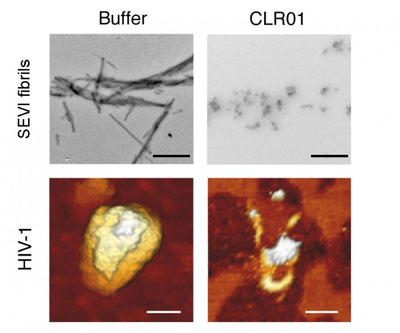 Upper panel: Electron microscopy reveals that buffer has no effect on SEVI fibrils (left), whereas CLR01 disrupts fibrils (right). Scale bars, 500nm. Lower panel: Atomic force microscopy reveals that buffer has no effect on the HIV virion (left), whereas CLR01 destroys it (right). CREDIT: James Shorter, PhD., Perelman School of Medicine, University of Pennsylvania
HIV is most commonly transmitted between individuals in semen which contains deposits of protein fragments called amyloid fibrils.
These fibrils can increase the transmission of HIV by helping the virus attach to the membrane surrounding human cells.  Scientists surmise that therapies that reduce the levels of amyloid fibrils in semen might be able to reduce the transmission of HIV.
A team led by researchers from the University of Pennsylvania and Ulm have discovered a small molecule that attacks the HIV virus and disrupts the amyloids in semen that promote HIV infection.The tweezer-shaped molecule, called CLR01, can both disrupt fibril formation and disassemble fibrils that have already formed.
CLR01 prevents HIV particles from interacting with fibrils by disrupting the membranes that surround the virus particles and can displace the virus particles that have already bound to the fibrils. In the presence of CLR01, human cells exposed to semen that contained HIV were at least 100-times less likely to become infected with the virus.
CLR01 has potential to be used as a therapy for reducing sexually transmitted viral diseases
CLR01 was also effective at directly disrupting other enveloped viruses, including hepatitis C virus, human cytomegalovirus, and herpes simplex virus, but was ineffective against the non-enveloped human adenovirus type 5. CLR01 may also be effective against many other enveloped viruses including flu and Ebola.
Amyloid fibrils formed by different proteins in the brain are associated with neurodegenerative disorders, such as Parkinson's disease, and CLR01 could also be useful for these disorders, say the scientists. The Breakthrough Treatment for Degenerative Diseases is a collaborative, international team pursuing CLR01 for these disorders.
"CLR01 has considerable potential to be used as a therapy for reducing the transmission of HIV and other sexually transmitted viral diseases," said Professor James Shorter from the University of Pennsylvania School of Medicine. "Remarkably, CLR01 does not affect cell membranes, which suggests it could be safely incorporated into a vaginal or anal gel to prevent HIV infection – without the risk of side effects."
The next step could be to assess safety and efficacy in non-human primates. "We think that CLR01 could be more effective than other microbicides that are in development because of its dual action, its safety in terms of side effects and its potential broad application," Shorter said.
"The tweezer has been tested and is safe in zebrafish and mice. The next step could be to assess safety and efficacy in non-human primates," says Professor Jan Münch from the University of Ulm.
The study findings are published in eLife.