ImageXpress Pico Automated Cell Imaging System – Interactive Demo
The ImageXpress® Pico Automated Cell Imaging System from Molecular Devices is more than a digital microscope, combining high-resolution imaging with powerful analysis.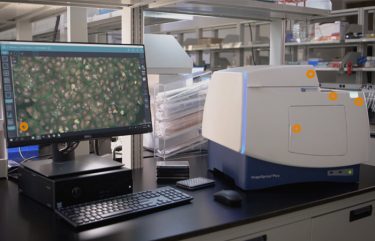 Whether running fluorescence imaging or brightfield assays, the automated imager features a comprehensive portfolio of preconfigured protocols for cell-based assays to shorten the learning curve, so you can start running experiments quickly.
Get started quickly
Streamline digital microscopy with the icon-driven, user-friendly CellReporterXpress™ software to minimize setup and shorten training time.
Do more than cell counting
Expand your assay capabilities with over 25 preconfigured templates optimized for cell-based experiments including apoptosis, mitochondrial evaluation, 3D cell models, live cell/time lapse, and neurite tracing.
Image economically
Alleviate the hassle of going to the core lab to run your samples. The system's lab-friendly price affords the convenience of automated digital microscopy in every lab.