The promise of therapeutic camelid-nanobodies
Supported by:

Watch this on-demand webinar and learn about robust technologies for nanobody drug discovery.
About this webinar
Dr Yi Shi's lab at the University of Pittsburgh Department of Cell Biology has recently developed a disruptive technology pipeline to revolutionise nanobody-based drug discovery. Using their approach, thousands of multi-epitope drug-quality nanobodies (Nbs) can be confidently identified and characterised for practically any antigen target. 
In this on-demand webinar, Dr Shi explains how in response to the pandemic, the researchers recently identified over 8,000 high-affinity, multi-epitope nanobodies that target the receptor-binding domain (RBD) of SARS-CoV-2 Spike glycoprotein. This large repertoire of neutralising Nbs includes sub-pM affinity binders that inhibit viral infection at sub-ng/ml concentration – unprecedented for antibody fragments. 
In follow-up structural studies, the researchers unravelled a plethora of mechanisms of virus neutralisation. Systematic structure-function studies demonstrated that potent neutralising Nbs are highly resistant to the circulating variants of concern and high-resolution cryoEM analysis of eight structures revealed novel and conserved epitopes inaccessible to large human antibodies. This event covers how the team's structural study provided insights into how Nbs uniquely target the virus and will inform the design of novel sarbecovirus therapeutics. 
Finally, the team demonstrated for the first time the high pre-clinical efficacy of a lead Nb (or any Nb) for inhalation treatment of SARS-CoV-2 infection; inhalation treatment drastically mitigated lung pathology and prevented pneumonia. Combined with the marked stability and low production cost, this novel therapy may provide a convenient and cost-effective option to the pandemic. 
Dr Shi therefore explores how these Nb technologies open numerous exciting possibilities in translational science and therapeutic development. 
Learning outcomes of this webinar
Learn about robust technologies for nanobody drug discovery
Find out about the development of ultrapotent and multi-epitope neutralising nanobodies against SARS-CoV-2 and its variants
Hear about a novel inhalation therapy by nanobody aerosols for the treatment of SARS-CoV-2 infection 
Discover how structure and functional characterisation reveals a plethora of antiviral mechanisms of ultrapotent nanobodies
Our speaker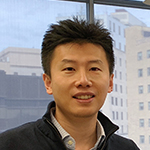 Dr Yi Shi, Assistant Professor, Department of Cell Biology, University of Pittsburgh School of Medicine

Dr Yi Shi received his PhD from Baylor College of Medicine. After postdoc training at the Rockefeller University in New York City, he started his own laboratory at the University of Pittsburgh, School of Medicine in 2017. His laboratory is interested in developing cutting-edge biotechnologies with a focus on mass spectrometry based proteomic techniques. The lab is also interested in antibody bioengineering and translational science.