Exclusive report: AI & Informatics: Drug discovery and development
In this original report, find an in-depth analysis of AI and informatics within imaging, synthetic biology, drug screening and drug design. Featured interviews with experts from AstraZeneca, Auransa, PolarisQB and Chalmers University of Technology.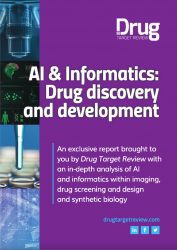 This exclusive report, produced by Drug Target Review, provides a comprehensive exploration of how the utilisation of AI and informatics is evolving within drug discovery and development. 
In this 63-page report, leading scientists and experts explore the key benefits of AI and informatics processes, revealing where the challenges lie for the implementation of AI and how they see the use of these technologies streamlining workflows in the future.
Also featured within this report are exclusive interviews with experts from AstraZeneca, Auransa, PolarisQB and Chalmers University of Technology.
Summary of Key Findings
57% of scientists use machine learning in imaging and data analysis
75% of drug screening experts believe AI technologies should be open-access and 79% believe its use will increase within drug screening 
75% of researchers believe the uptake of AI will increase within drug design
100% of synthetic biologists report using neural networks for modelling, with 50% using machine learning algorithms
67% of drug design researchers predict that big pharma are most likely to use AI and machine learning in the future
71% of scientists use AI and machine learning to discover new chemical entities and for structure-based drug discovery
Download this original report to access the full survey results, in-depth analysis and market research to explore AI & Informatics in drug discovery and development.
Featured Interviews
AI and imaging – the current and future landscape

Dr Mishal Patel is Global Head of Imaging, AI & Data Analytics, R&D at AstraZeneca. Mishal undertook research at the Institute of Cancer Research before moving to the National Health Service. He joined AstraZeneca in 2018 and has led teams focusing on machine learning, real world evidence and imaging to aid better decision making in drug development.

Dr Richard Goodwin is Head of Imaging & AI, Clinical Pharmacology & Safety Sciences, R&D at AstraZeneca. He derives project insight and impact by connecting safety and efficacy endpoints using advanced tissue histology, molecular imaging, in vivo PET, MRI and more. He has published over 60 publications on the development of new technology. 
Accelerating drug discovery through AI and informatics

Dr Pek Lum is Co-founder and Chief Executive Officer at Auransa. With more than 20 years of genomics and drug discovery experience, she was previously Vice President of product and Chief Data Scientist for Ayasdi. She started off her career at Rosetta Inpharmatics and received her PhD working on yeast genetics at the University of Washington, US. 

Dr Shahar Keinan is a computational chemist with over 15 years of experience. Following a PhD in chemistry from The Hebrew University of Jerusalem, she was a postdoc fellow at Duke University and Staff Scientist at the University of North Carolina. She was Chief Scientific Officer of Cloud Pharmaceuticals and is now Chief Executive Officer of PolarisQB.

Will Simpson is a communications professional with over 20 years of experience working with clients from the educational sector to the world of quantum computing. Following a degree from Emory University, he served as a communications consultant before joining PolarisQB.
Generating synthetic proteins
Associate Professor Aleksej Zelezniak graduated as a bioengineer at the Vilnius Gediminas Technical University. Obtaining a master's degree in bioinformatics from the Technical University of Denmark and a PhD from EMBL in Heidelberg, he joined as an EMBO postdoctoral fellow in the Markus Ralser at the University of Cambridge and the Francis Crick Institute. Since 2017, he has led a research group at Chalmers University of Technology, Gothenburg, Sweden. The Zelezniak lab actively uses machine learning to study biological systems and for synthetic biology applications.
Report authors

Victoria Rees, Deputy Editor of Drug Target Review 

Dr Rebecca Burnham, Emory University