New research highlights the potential of BI-1206 to help overcome antibody drug resistance in cancer therapy
Posted: 14 April 2015 | Victoria White
BI-1206 has shown success in overcoming resistance to monoclonal antibodies like rituximab, currently used to treat different types of cancer…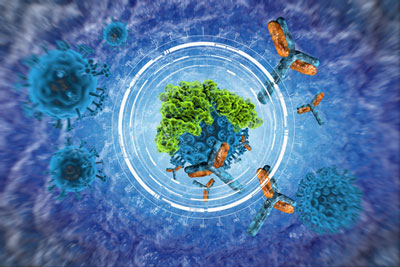 New research carried out by BioInvent and scientists at the University of Southampton shows that resistance to many types of antibody drugs can be overcome by preventing cancer cells from 'hiding' from immune cells.
The research, which was partly funded by Leukaemia & Lymphoma Research and Cancer Research UK, have shown that some cancer cells are able to draw monoclonal antibodies inside themselves, making them invisible to immune cells. However, the researchers showed that a new antibody developed by BioInvent, called BI-1206, can effectively prevent this drug destruction process and enhance cancer killing by binding to a molecule called FcgRIIB. BI-1206 showed success in mice in overcoming resistance to monoclonal antibodies like rituximab, currently used to treat different types of lymphoma and leukaemia. BI-1206 is currently in preclinical development and scheduled to enter Phase I/II clinical testing later this year.
BI-1206 is one of several immune modulatory antibodies that BioInvent is developing for treatment of cancer
"With more monoclonal antibody treatments being developed, there is an urgent need to understand how tumours become resistant to them and develop ways to overcome it. Not only does BI-1206 appear to be able to reverse resistance to a range of monoclonal antibodies, it is also effective at directly killing cancer cells itself", said Mark Cragg, Professor at SOTON and co-senior author on the paper.
"The collaboration has been extremely rewarding and important for BioInvent's transition towards becoming an important player in the immuno-oncology space and in development of antibody based cancer immunotherapies. BI-1206 binds very specifically to the inhibitory Fc gamma receptor IIB (CD32B), a receptor that acts as a brake to dampen critical anti-cancer immune cell's (macrophages) function and to eliminate therapeutic antibodies from the targeted tumour cell surface, both processes reducing efficacy and promoting drug resistance. We are hopeful that the strong preclinical data can be translated into clinically meaningful responses, and look forward to entering clinical testing later this year", said Björn Frendéus, Ph.D., Chief Scientific Officer of BioInvent and co-senior author on the paper.
Michael Oredsson, CEO of BioInvent, said, "BI-1206 is one of several immune modulatory antibodies that BioInvent is developing for treatment of cancer. The first in man study is a signal-seeking study designed to demonstrate the safety of BI-1206, when used alone or in combination with rituximab, and to explore its potential efficacy in treatment of B cell malignancy. I am very pleased with the strong translational collaboration with the University of Southampton, led by Professors Martin Glennie and Mark Cragg and their distinguished clinical colleagues Professor Peter Johnson and Dr Andrew Davies."
The research has been published in the journal Cancer Cell.
For more information about BioInvent International, please visit www.bioinvent.com.