Anti-Ebola MVA vaccine produced on ProBioGen's AGE1.CR cell line platform enters clinical trials
Posted: 3 June 2015 | Victoria White
An investigational vaccine against Ebola, produced on ProBioGen's proprietary, continuous muscovy duck AGE1.CR cell line, has proceeded into clinical trials…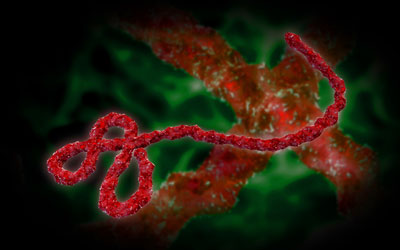 An investigational vaccine against Ebola virus disease, produced on ProBioGen's proprietary, continuous muscovy duck AGE1.CR.pIX® cell line, has proceeded into clinical trials at the Jenner Institute.
The vaccine candidate, a modified vaccinia Ankara (MVA) Ebola Zaire vaccine (MVA EBOZ) was produced by Emergent BioSolutions at a 200 litre scale to supply the Phase 1 clinical trial.
Professor Adrian Hill, Director from Oxford's Jenner Institute commented, "Production of the first ever batch of MVA for a clinical trial using a cell line is a milestone in the development of this important vaccine technology. This new process, which will allow very large scale production, will be of value not only for Ebola prevention, but also for a wide range of other disease indications including malaria and tuberculosis vaccination."
AGE1.CR manufacturing platform offers shorter response times
Dr Volker Sandig, ProBioGen's Chief Scientific Officer, added, "Our AGE1.CR manufacturing platform offers shorter response times, full industrial bioreactor scalability and therefore much greater flexibility, compared to traditional vaccine production processes depending on embryonated chicken eggs. It is very satisfying to see that our broadly applicable vaccine production platform is instrumental to efficiently supply urgently needed human vaccines available to patients world-wide."
ProBioGen developed the AGE1.CR.pIX duck cell line for a wide spectrum of viruses. AGE1.CR.pIX cells grow rapidly and are fully scalable. In contrast to the traditionally used cells from embryonated chicken eggs, AGE1.CR.pIX, derived from a muscovy duck, is devoid of adverse retroviral activity. Hence, the complex and costly production processes with chicken eggs can be replaced by a safe, fully scalable, and cost-effective production platform which is easily transferrable, requires only a small footprint and standard bioreactor technology.