Leveraging LIMS advancements to ensure efficiency in your bioanalytical laboratory
Supported by:

Explore new methods and software enhancements to support your bioanalytical workflows by watching this on-demand webinar.
About this webinar
As the scientific landscape continues to evolve, it is more critical now than ever that software supports the ever-changing laboratory. Bioanalytical laboratories must focus on data integrity and quality, ensuring that the data is accessible to those seeking to validate it. Thermo Scientific™ Watson LIMS™ software, specifically designed and built to support the bioanalytical workflow, provides a standardised way for scientists and laboratories to work. Software enhancements in the latest release of Watson LIMS software have refreshed the user experience, giving scientists an opportunity to save time and further secure data quality. In addition, following the recent US Food and Drug Administration (FDA) guidance around internal standard review, users will now have a dedicated workflow to define, review and make decision on internal standard (IS) response data. Watson LIMS software promotes compliance through the workflow, providing seamless and accurate data collaboration, collection and reporting.
Watch now to learn how Watson LIMS software can enhance your data integrity, improve your laboratory efficiency and align with industry best practices.
Learning outcomes of this webinar
Explore software enhancements to support your bioanalytical workflows
Learn about enhanced user experience benefits Watson LIMS software can provide
Understand industry challenges and changes, including the recent FDA guidance on internal standard review
Learn how Thermo Fisher can support your organisation's compliance and data integrity needs
Our speaker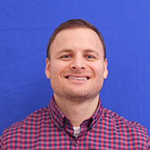 Tyler Pascoe, Senior Product Specialist, Thermo Fisher Scientific
Tyler Pascoe is currently a Senior Product Specialist for the Digital Science division at Thermo Fisher Scientific. With a diverse background in the bioanalytical field, Tyler is currently supporting Thermo Scientific™ Watson LIMS™ software, which is specifically built to support bioanalytical laboratories. Tyler has his Master of Business Administration from Webster University and a Bachelor of Science in Biochemistry from University of Nebraska-Lincoln.