ebook: A data-driven approach to preclinical drug discovery
Supported by: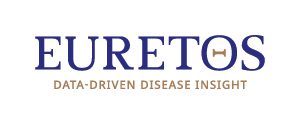 Published: 6 December 2022
This ebook details Euretos' approach to predicting novel gene-disease associations including a case study on Multiple Sclerosis GWAS and drug targets.
Euretos collaborates with the world's leading pharma and biotech companies to take a data-driven approach to target discovery and indication selection. 
This ebook covers:
How computational disease models predict novel gene-disease associations
A case study confirming Euretos predictions for known Multiple Sclerosis GWAS and drug targets 
The benefits of using an AI-integrated knowledge base for target evaluation.