Human endogenous retrovirus expression as targets for multiple sclerosis
Posted: 9 November 2016 | Dr Hervé Perron, co-founder and Chief Scientific Officer of GeNeuro  | 1 comment
GeNeuro's co-founder and CSO Dr Hervé Perron discusses how a HERV protein could be a target for a novel approach in treating multiple sclerosis…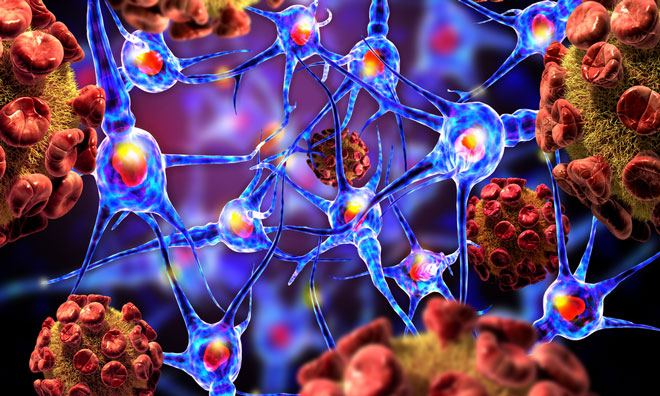 Human endogenous retroviruses (HERVS) are now known to represent about 8% of the human genome and to be the remnants of ancient infections that integrated into the germline during evolution millions of years ago. Most of them have been inactivated by mutations or deletions but a few have retained the potential to be expressed as retroviral proteins or, even, as retroviral particles. Under normal circumstances, the latter are epigenetically silenced and harmless, and some copies may not be evenly distributed in the genomes of the human population (unfixed copies).
The hypothesis for an HTLV-like retroviruses to be involved in multiple sclerosis was first published in a paper co-authored by Hilary Koprowski and Robert Gallo (Nature 1985. 318: 154-160). On reviewing this paper, researchers at Grenoble University decided to study cell cultures obtained from MS patient cerebrospinal fluid, which had shown expression of retrovirus like particles, more closely.
Molecular characterisation of these particles revealed a new human retroviral sequence, named "multiple sclerosis associated retrovirus element", the prototype sequences of which further unveiled a previously unknown family of human endogenous retroviruses (HERVs) now named HERV-W ( (Perron H et al. Molecular identification of a novel retrovirus repeatedly isolated from patients with multiple sclerosis. The Collaborative Research Group on Multiple Sclerosis. Proc Natl Acad Sci U S A. 1997).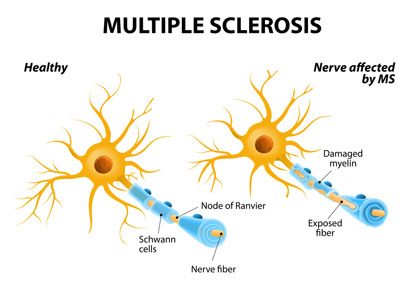 Research showed that HERVs could be triggered by exposure to exogenous viruses or other events and, when so expressed and unregulated, that they could produce pathogenic proteins now shown to be driving typical features of certain chronic and/or autoimmune diseases.
Unlike exogenous retroviruses, HERVs are generally not infectious and unlike classical genes, they are multicopy elements with some variable copies among human genomes (Wildschutte JH et al. Discovery of unfixed endogenous retrovirus insertions in diverse human populations. Proc Natl Acad Sci U S A. 2016.).
Transcriptional activation
In some instances, transcriptional activation of HERVs may lead to the expression of proteins, including HERV-W envelope protein, also called MSRV-Env from its original denomination in MS. It may also eventually produce non-infectious retroviral particles. Elucidation of HERV-W envelope protein's pathogenic properties demonstrated a potential link to MS.
Protein effects
The protein was found to be expressed in MS patients but not healthy controls. When administered to animals, the protein caused neurotoxicity with both neuroinflammatory and demyelinating components.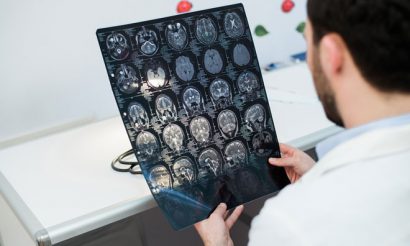 The HERV-W protein has been shown to have both a pro-inflammatory action via interaction with the TLR4 receptor of innate immunity, as well as to prevent the differentiation of oligodendrocyte precursor cells, which are responsible for remyelinating brain lesions. It could be detected in all MS brains tested to date (van Horssen J  Human endogenous retrovirus W in brain lesions: Rationale for targeted therapy in multiple sclerosis. Multiple Sclerosis and Related Disorders. 2016), within areas of active demyelination from early to late progressive lesions.
These properties provided clear evidence that this protein could be a target for a novel approach in treating MS.
Most approaches to the treatment of MS target the immune system, thereby addressing the symptoms of the disease. As this HERV-W envelope protein (MSRV-Env) is not physiologically expressed and acts upstream to the pathogenic cascades involved in the disease, blocking its effects may result in addressing one of the key causes of MS.
GeNeuro's pipeline
Swiss company GeNeuro was founded in 2006 as a spin-off from Institut Mérieux, which had been leading the research on HERV-W in partnership with the French INSERM research institute.
GeNeuro's lead molecule, GNbAC1, a humanised monoclonal antibody against the HERV-W envelope protein, showed in Phase I and in Phase IIa on a limited cohort of patients that it was safe and well tolerated, providing encouraging signs of clinical benefit. GNbAC1 is now progressing through a European Phase 2b study, CHANGE-MS, in patients with remitting relapsing multiple sclerosis (RRMS), and has now passed the halfway mark in recruitment, ahead of schedule.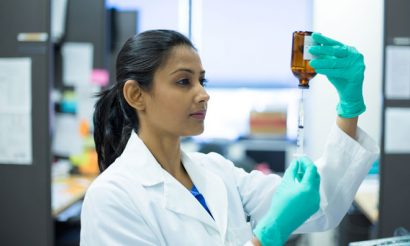 The 6-month initial results of this study will be available in Q4 2017. GeNeuro believes that these results will establish the role of MSRV-ENV as a causal factor of MS and provide patients with a new, safe and powerful therapeutic.
Potential for other diseases 
Research into HERVs and their application to human disease goes far beyond just MS. Academic research around the world has linked their activation to several other important diseases, including Type 1 diabetes, amyotrophic lateral sclerosis (ALS), chronic inflammatory demyelinating polyneuropathy (CIDP) and schizophrenia. With this research will come new targets for drug development, providing hope for patients with these extremely difficult to treat diseases.

Dr Hervé Perron is a co-founder and Chief Scientific Officer of GeNeuro as well as the general manager of GeNeuro-Innovation. Previously, he was Research Director of R&D within bioMérieux for the development of in vitro diagnostics for neurological diseases and Scientific Director of bioMérieux STELHYS, a spin-off dedicated to the evaluation of developments in upstream research projects. He is the author of over 120 peer-reviewed publications and patents. He completed his PhD in 1991 (Virology) and HDR (Professor Thesis; Biology) in 2000 from the Faculty of Medicine, Joseph Fourier University, Grenoble, France.