A new dawn in academic and pharma collaboration – a UK perspective
Academia and pharma have always been uneasy bedfellows. There has in the past been tension between both caused by a range of issues that neither party was willing to try and resolve. However, there is a new impetus to solve these issues as both parties have started to realise that they need each other to survive. A number of UK-based academic, pharmaceutical and charitable organisations are developing solutions to traditional issues, heralding a new era of 'entente cordiale' which will lead to a truly collaborative paradigm within academic/pharma drug discovery.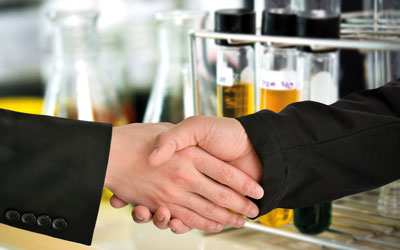 Academia is increasingly showing a desire and willingness to move into drug discovery, driven by a number of factors, but not least from the desire of universities and institutes to obtain a larger return on investment in the light of budgetary pressure. There is also a realisation within the academic sector that drug discovery is a complex beast involving multidisciplinary collaboration and a plethora of data requirements. Understanding how to deliver successful drug discovery is hard, especially within an academic setting, where one does not have easy access to the wealth of expertise that exists within pharmaceutical companies who have been working within this space for decades. Even so, pharma companies themselves also find drug discovery challenging, as exemplified by the vast resources applied to drug discovery research within these organisations, and even this does not guarantee tangible success. The current ethos within pharma, as it has been for many years, is to achieve more with fewer resources and to reduce the attrition and expenditure surrounding translation of ideas into the clinic.
Mellowing relations
Traditionally, a number of issues have proven significant impediments to collaboration between academia and pharma and hence many synergistic opportunities have been lost. However, in recent years there has been a change in attitudes driven by a significant need on both sides of the academia/pharma divide. Increasingly, academics are realising that drug discovery is so resource-hungry, and requires such a diverse expertise, that outside help is required. In addition, the downsizing of pharma, and especially the increasing focus on development as opposed to research, has left pharma searching for opportunities to obtain new targets for their pipelines. To this end, academics are often seeking ways to access pharma expertise and resources and pharma companies are seeking access to new and innovative targets with sufficient validation in which to invest. The environment is now ripe for a meeting of minds and the development of some novel collaborative paradigms between academic and pharma drug discoverers. There are still issues to overcome but there has been a significant drive from all parties to find solutions, as illustrated in Table 1.
Specifically, in the UK there are a number of groups leading the way in a new era of entente cordiale. Examples of such initiatives are detailed as follows.
Table 1: Barriers to enabling successful pharma/academic collaborations and potential solutions to these
Obstacle

Solution

Risk of IP contamination of pharma company

Provision of non-confidential abstracts of potential projects to allow pre-filtering of targets without risk of exposure

Set up of third party review panel who advise pharma based on areas of therapeutic interest and who protect pharma from contamination

Risk aversion of pharma to poorly validated projects

Involvement of specialist academic drug discovery organisations to recapitulate, validate and expand data set leading to 'de-risking' of proposal. Examples of such organisations are MRC Technology (MRCT), Cancer Research Technology (CRT) and the Dundee University Drug Discovery Group

Confirmation of target engagement via use of biophysical methods

Increased use of human cell derived data for better clinical relevance

Concerns over revealing proprietary structures

Structures not revealed until certain criteria are met to justify chemistry investment. For example, confirmation of activity in at least two assay formats and development of 'productive SAR' (demonstration that SAR is not flat) by use of near neighbours selected by pharma company

Lack of pharma investment unless there is clear benefit to company

Identify projects fulfilling potential in  therapeutic area which are of interest to pharma company

Match disease association of targets to specific pharma companies with same interests

Pharma requiring control of project so 'freezing out' PI

Ensure agreements allow for transfer of tool compounds and probes to PI for further expansion of current work and publications whilst maintaining key series out of public domain
Dementia Consortium
Key players: Alzheimer's Research UK (ARUK), MRC Technology (MRCT), Lilly, Eisai
The Dementia Consortium was created in response to the growing need for treatments to serve a range of diseases within this envelope but in particular, Alzheimer's disease. MRCT is a UK-registered charity focusing on developing new treatments in areas of unmet medical need. As such MRCT has access to a very large network of academics worldwide and it is this network coupled with the Alzheimer's Research UK (ARUK) funded academic network that is being actively targeted to find novel approaches to treating dementia.
Once projects have been identified, MRCT undertakes due diligence to provide confidence in the underpinning biological concept and available data packages and then works with the academic Principal Investigator (PI) to develop a workable progression strategy to take the project to a PoC readout in relevant cell- and animal-based models. The resulting packages are presented to Lilly and Eisai and if any are of interest to either then this triggers a commitment from them to the project of funding, preclinical expertise and potential access to resources in kind such as screening sets, secondary assays and downstream models. In tandem, MRCT commits to using its own laboratory resources in collaboration with the PI to drive towards proof of concept (PoC). ARUK also commits funding to support the programme. A successful outcome is provision of strong enough validation to warrant the collaborating company to initiate a full blown drug discovery effort in house. So far, 43 opportunities have been proposed to the consortium of which, to date, four have been selected by the consortium members. The benefits of the Dementia Consortium are shown in Table 2.
Table 2: Benefits of the Dementia Consortium to academia, pharma and the patient
To the Academic

To Pharma

To the Patient

Access to funds to progress research

Access to tool compounds and probes to help validate hypothesis

Access to MRCT's drug discovery resources and expertise free of charge

Potential to deliver  articles in quality publications

Access to a portfolio of world class research in dementia, pre-filtered on due diligence

De-risking of basic biology at low financial risk and resource burden

Ability to bring in-house quality projects meeting validation criteria for investment

Potential acceleration of new treatments for dementia
Cancer metabolism alliance
Key players: Cancer Research Technology, AstraZeneca
Cancer metabolism research seeks to explain why cancer cells use energy differently to normal cells in order to survive and grow, particularly under the conditions of nutrient and hypoxic stress faced by rapidly growing tumours. New drugs that control a cell's metabolism could attack an 'Achilles heel' of the tumour whilst sparing normal tissues.
Cancer Research Technology (CRT) Discovery Laboratories and AstraZeneca initiated a strategic risk-shared alliance in 2010, to develop clinically positioned therapies against novel targets addressing cancer metabolism and integrated signalling pathways. The model was to jointly prosecute projects up to in vivo proof of concept (lead optimisation investment decision, LOID), at which point AstraZeneca can exercise the option to in-license.
The expertise of CRT's Discovery Laboratories and CRT's unique access to the UK cancer research community combined with AstraZeneca's extensive capabilities has created an innovative and productive model for early-stage drug development. The flexibility of the alliance structure enables the parties to supply FTE into different discovery disciplines to complement each other's strengths and effectively drive portfolio progression. To date the alliance has reviewed over 100 targets within cancer metabolism, working experimentally on over 20 targets. This has result in five projects progressing to cell active compound stage. This collaboration has effectively explored a highly novel area of cancer biology as evidenced by the numerous conference presentations, publications and commentary pieces from alliance scientists and the release of high quality probe compounds into the research community. The advantages of this type of alliance are shown in Table 3.
Table 3: Benefits of the Cancer Metabolism Alliance to academia, pharma and the patient
To the Academic

To Pharma

To the Patient

Access to tool compounds and probes to help validate hypothesis

Access to CRT's drug discovery resources and expertise

Potential to deliver  articles in quality publications

Access to a portfolio of world class research in cancer metabolism, pre-filtered on due diligence by CRT

De-risking of basic biology at low financial risk and resource burden

Ability to bring in house quality projects meeting validation criteria for investment

Potential discovery of new treatments for certain cancers

Acceleration of novel ideas towards the clinic
AstraZeneca MRC UK Centre for Lead Discovery
Key Players: AstraZeneca, Medical Research Council  
AstraZeneca and the MRC have committed to a new Centre for Lead Discovery to be sited within AstraZeneca's new Cambridge facility. The aim is to see world class MRC-supported researchers working side-by-side with AstraZeneca scientists identifying new methods to better understand a range of diseases and potential treatment options. The mainstay of this operation is the provision, by AstraZeneca, of access to over two million molecules in AstraZeneca's compound library, as well as its high throughput screening and chemistry facilities. The plan is that projects run at the facility will deliver potent tool compounds for both validation of targets and also to form the basis of hit-to-lead programmes. The free access to such a large and quality compound set is a rarity within the academic sector and it is this, coupled with cutting edge biology from academics, which will hopefully pay dividends for patients (Table 4).
Table 4: Benefits of the UK Centre for Lead Discovery to academia, pharma and the patient
To the Academic

To Pharma

To the Patient

Access to an unprecedented large set of quality compounds

Access to tool compounds and probes to help validate hypothesis

Access to HTS that would be unthinkable within academic budgets

Access to a portfolio of world class research from which to identify new opportunities

De-risking of basic biology at shared risk and resource burden

Ability to bring in house quality projects that have been shown to be'"drug-able'

Potential identification of new pathways and starting points that could deliver new drugs
Neuroscience – medicines acceleration programme (Neuro-MAP)
Key Players: MRC Technology, Various Neuroscience based charities, A selection of Pharma companies 
Neuro-MAP is a consortium created by MRC Technology to focus on new therapies for neurodegenerative disease; it includes research charities and pharma companies from both the UK and US. The objective is to progress de-prioritised assets from industrial partners to a value inflexion point where it becomes attractive to invest in further development towards the patient. Attractive assets include those that have been de-prioritised for non-scientific reasons (i.e., change in therapeutic area focus) and yet these projects hold potential value for patients that will not otherwise be realised without additional resource and financial input. MRC Technology performs due diligence on all projects proposed and each charity decides whether to invest and to what level. In this way charities retain control of their own research budgets and ensure alignment with their individual objects.
All background intellectual property (IP) remains the property of the industrial partner and any IP created as a result of the consortium activities is transferred to the industrial partner on project completion. The additional work and any IP generated on these parked assets will potentially provide an incentive to the relevant pharma company to reactivate the asset thereby progressing an asset towards patients that would have otherwise been left in its dormant state. By investing in Neuro-MAP, the charities, including MRCT, are fulfilling their charitable objectives to drive basic research towards patient benefit. Its benefits are summarised in Table 5.
Table 5: Benefits of the Neuro-MAP to academia, pharma and the patient
To the Academic

To Pharma

To the Patient

Access to high quality neuroscience tools

Opportunity to explore pathways and access resources from both MRCT and Pharma

Potential to add value and resurrect stalled programmes

Ability to recoup expenditure on past programmes where assets have seemingly failed in the clinic

Repositioning of parked assets

Potential to fast track new treatments for dementia
Summary
Despite the traditionally cool relationships between academia and pharma, significant progress has been made on overcoming issues preventing effective collaboration. This has been driven by a need on the side of both parties and has such has focused the minds of key decision makers to overcome impediments. A number of organisations on both sides of the academia/pharma divide are taking the lead in this new era of entente cordiale and this will in turn set the tone for wider engagement between other such organisations and herald a new era of effective collaborative drug discovery.
Biography
Justin Bryans is Director of Drug Discovery at the MRC Technology's (MRCT) Centre for Therapeutics Discovery (CTD) based in London. He gained a chemistry degree and DPhil at the University of York followed by a post-doc at the University of Oxford. He has since worked for over 20 years as a medicinal chemist in a number companies, including Pfizer, and joined MRCT in 2005. MRCT has already helped develop four marketed drugs, TysabriTM, ActemraTM, EntyvioTM and KeytrudaTM. Justin teaches drug discovery at Queen Mary University of London, University Collage London and the Wellcome Trust and is a Fellow of the Royal Society of Chemistry.