Allergan and Pfizer terminate merger agreement
The decision was driven by the actions announced by the US Department of Treasury to reform inversion tax rules, which the companies concluded qualified as an "Adverse Tax Law Change". Market rumour suggests that Pfizer will now target Shire or AstraZeneca and shares in both companies went up with the announcement of the merger termination…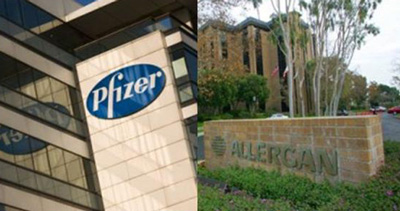 Allergan's merger agreement with Pfizer has been terminated by mutual agreement.
Had the merger gone ahead, the combined company, to be named Pfizer plc, would have been the biggest drug maker in the world by sales.
Pfizer said the decision was driven by the actions announced by the US Department of Treasury on Monday, which the companies concluded qualified as an "Adverse Tax Law Change" under the merger agreement. The US Department of Treasury  proposed regulations to limit the number of corporate tax inversions and reduce the benefits of tax inversions. By undertaking an inversion transaction, companies move their tax residence overseas to avoid US taxes without making significant changes in their business operations. The Allergan Pfizer merger came under fire from the time it was announced last year for being such an inversion transaction.
In connection with the termination of the merger agreement, Pfizer has agreed to pay Allergan $150 million for reimbursement of expenses associated with the transaction.
Allergan reiterated its compelling standalone growth profile and strategy following the announced termination of the combination of the two companies. It said it is positioned to drive strong, sustainable growth powered by leading franchises, new potential blockbuster product launches and unmatched pipeline.
Commenting on the announcement, Brent Saunders, CEO and President of Allergan, said: "While we are disappointed that the Pfizer transaction will no longer move forward, Allergan is poised to deliver strong, sustainable growth built on a set of powerful attributes. Leading therapeutic franchises with strong brands across seven therapeutic areas provide the foundation for continued strong growth in 2016 and beyond. Our pipeline is one of the strongest in the industry, loaded with 70 mid-to-late stage programs including 14 expected approvals and 16 regulatory submissions in 2016 alone.
"Allergan is focused on delivering growth from an efficient operating structure while also being committed to investing in R&D through our Open Science model.  The Company is also poised to deliver additional growth opportunities from its attractive financial profile and balance sheet, propelled by approximately $40.5 billion pre-tax from the sale of our Actavis Generics business to Teva, expected to close in June 2016."
Based on a preliminary review of the proposed regulations outlined in the US Treasury Notice, Allergan believes that the regulations will have no material impact on the Company's standalone tax rate.
Pfizer to make a decision on separating its businesses by the end of the year
In a statement, Ian Read, Chairman and Chief Executive Officer, Pfizer, said: "Pfizer approached this transaction from a position of strength and viewed the potential combination as an accelerator of existing strategies. We remain focused on continuing to enhance the value of our innovative and established businesses. Our most recent product launches, including Prevnar 13 in Adults, Ibrance, Eliquis and Xeljanz, have been well-received in the market, and we believe our late stage pipeline has several attractive commercial opportunities with high potential across several therapeutic areas. We also maintain the financial strength and flexibility to pursue attractive business development and other shareholder friendly capital allocation opportunities."
Read added: "We plan to make a decision about whether to pursue a potential separation of our innovative and established businesses by no later than the end of 2016, consistent with our original timeframe for the decision prior to the announcement of the potential Allergan transaction."
Pfizer may target Shire or AstraZeneca
Speaking to Drug Target Review on the terminated merger, Rae Ellingham, Research Analyst at Charles Stanley, said: "In a continued move to protect its tax base the US has introduced new tax inversion rules. This means that assets acquired from a US company within three years of a new deal must be ignored in calculating the ownership percentage of the newly combined company, held by a foreign entity. For the full benefits of a tax inversion to apply the foreign entity must own more than 40% of the newly combined company.
"As a result the $160bn planned merger between US based Pfizer and Irish Allergan has been terminated.
"Market rumour once again suggests that Pfizer will either now target Shire or revisit its interest in AstraZeneca. Both options are possible but we believe a deal with AstraZeneca would be more feasible given the new ownership rules and respective market caps. In either case, neither Shire nor AstraZeneca would seem to be keen on pursuing a deal with Pfizer – Shire is to merge with US based Baxalta to create a global leader in rare diseases while AstraZeneca rebuffed an approach from Pfizer in 2014. The proposed deal was also the subject of extensive political scrutiny.
"Both Shire and AstraZeneca shares are up today on the failed Pfizer/Allergan deal."