Queen's University Belfast and Domainex secure award to advance FLIP inhibitor
Posted: 26 April 2016 | Victoria White, Digital Content Producer | No comments yet
Queen's University Belfast and Domainex have secured an award to advance therapeutic candidate molecules into clinical evaluation for treatment of NSCLC…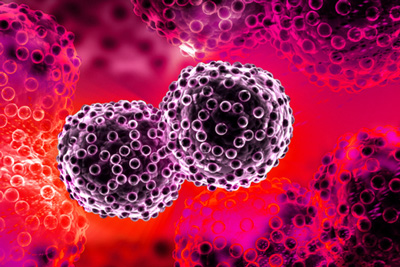 Queen's University Belfast and Domainex have secured a late-stage award from the Wellcome Trust Seeding Drug Discovery scheme to advance therapeutic candidate molecules into clinical evaluation for treatment of non-small cell lung carcinoma (NSCLC).
The cell death regulatory protein FLIP is believed to be a key regulator of tumour cell survival that promotes tumour growth and resistance to standard therapies. The award will allow the partners to accelerate the optimisation and early development of first-in-class small molecule inhibitors that block FLIP's pro-survival functions. The inhibitors invented by the team have already shown efficacy in preclinical models of NSCLC, a disease that represents around 90% of all lung cancers diagnosed and accounts for the highest rate of cancer death worldwide, with over one million deaths annually.
This next phase of the collaboration will allow the completion of preclinical studies and progression of the inhibitors to first in human Phase I clinical evaluation following regulatory approval.
Targeting FLIP is 'extremely challenging'
Commenting on the funding award, Trevor Perrior, Research Director at Domainex, said: "We are delighted to continue our successful partnership with Dr Daniel Longley, Prof. Timothy Harrison and their team at Queen's University Belfast. The additional funding secured from the Wellcome Trust is a clear endorsement of the strength of the integrated drug discovery platform of Domainex to deliver compounds with the potential to provide life-changing treatments for serious diseases. Domainex will continue to provide its expertise in medicinal chemistry, ADME and physicochemical profiling. We remain deeply committed to supporting academic translational research. We look forward to working further with Dan, Tim and their colleagues to take our jointly-discovered compounds into patients."
Dr Daniel Longley added: "Resistance to current treatments for non-small cell lung cancer and other cancers is a major clinical problem. Our work at Queen's has demonstrated that FLIP is frequently overexpressed in non-small cell lung cancer and other cancers and that this promotes resistance to chemotherapy. More recently, we have found that FLIP also promotes resistance to radiotherapy. Targeting FLIP directly is extremely challenging; however, by combining our understanding of the biology of FLIP with the expertise of the team at Domainex, we have now developed first-in-class small-molecule FLIP inhibitors that this award from the Wellcome Trust will enable us to take all the way into clinical evaluation in patients."