Myths that must be overcome to ensure successful commercialisation of biosimilars
SMi's 3rd annual Biosimilars North America conference will be returning to Iselin, New Jersey, USA in November 2016…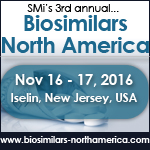 SMi's 3rd annual Biosimilars North America conference will be returning to Iselin, New Jersey, USA in November 2016. This year's event promises to bring even more senior experts discussing industry hot topics such as: latest approvals, biosimilar commercialization, interchangeability's impact on biosimilars, regulatory updates and much more.
In the run up to this must-attend show the SMi Group caught up with the conference speaker: Ross Day, Director of Pharmacy & Sourcing Operations, Vizient, Inc. He will be presenting at the conference on "Why successful commercialization of biosimilars is important to Vizient".
Here is Rosses thoughts on the current situation and future of biosimilars market in the US:
R.D.: "…The U.S. biosimilars market is poised for unprecedented success. A simplified approval pathway exists, and four biosimilar versions of branded biologicals have now been approved. One of those four has launched and expectations are high that Inflectra® will launch very soon. The myths that have been floating around about quality, safety, and lack of data have been effectively dispelled by numerous peer reviewed publications and the Food and Drug Administration has not had any significant push-back in their Advisory Committee meetings when they've reviewed the applications…. Guidance on naming, labelling and interchangeability is still evolving, but the recent approval of Amjevita® (adalimumab-atto) provides a signal that the agency may still allow a name that can be associated with the sponsor…"
To review the full interview, event agenda and speaker line up please visit: www.biosimilars-northamerica.com
Join industry experts this November to hear the latest market developments and regulatory updates to ensure you stay at the forefront of this evolving market!
Elite speaker panel 2016:
Edric Engert, Senior Vice President, Biosimilars, Teva Pharmaceuticals
Rodeina Challand, Director, Challand Biosimilar Consulting
Brad Jordan, Director, Regulatory Affairs and R&D Policy, Amgen, Inc.
Daniel Alvarez, Senior Director, Asset Lead, Global Established Pharma, Pfizer, Inc.
Cindy Cao, Executive Director & Head of US Regulatory Affairs for Biopharmaceuticals, Sandoz, Inc. and many more
Conference will also feature two interactive pre-conference workshops:
A: Leveraging Successful Patient Recruitment & Retention Strategies in Biosimilars Research
Led by Shazia Ahmad, Director, Patient & Physician Services, UBC – An Express Scripts Company
B: Biosimilars: Considerations for Optimizing Access and Price
Led by: Mkaya Mwamburi, Vice President, HEOR/Evidence Generation, MKTX Market Access Solutions, LLC
2016 event is sponsored by: Abzena, Schwegman, Lundberg & Woessner, P.A. and Wyatt Health Management
For media enquiries please contact Anna Serazetdinova on +44 20 7827 6180 or [email protected]
For delegate enquiries contact Fateja Begum +44 (0) 20 7827 6184 or email [email protected]
For sponsorship opportunities contact Alia Malick on +44 (0) 20 7827 6168 or email: [email protected]