Molecular methods rapidly gain ground in infectious disease diagnostics
Posted: 12 December 2014 | Frost & Sullivan
Convergence of immunodiagnostic and molecular tests will help meet demand in developed countries, says Frost & Sullivan…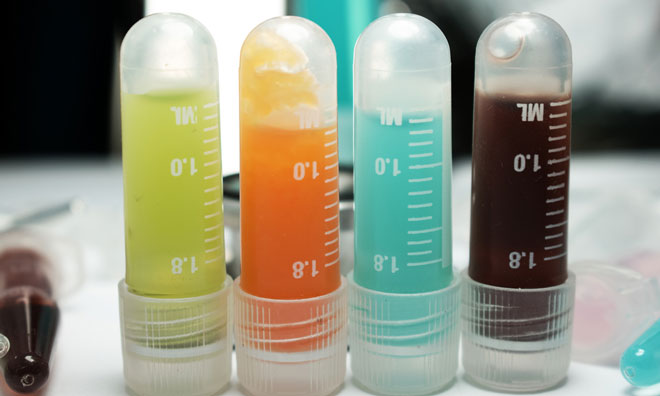 Research vials used with immunotherapy
Unique disease outbreaks across the globe are escalating the demand for screening and spurring the infectious disease diagnostic market.
The market will continue to develop as unmet technological needs lead to the creation of faster, more capable platforms. Molecular diagnostics is growing the fastest among the infectious disease market segments, clocking a compound annual growth of 15.30 percent. Although these tests remain expensive, their efficiency and accuracy strengthen their use case.
New analysis from Frost & Sullivan's Analysis of the Global Infectious Disease Diagnostics Market finds the market earned revenue of $7.91 billion in 2013 and estimates this to reach $12.77 billion in 2018. Hepatitis B, hepatitis C, tuberculosis, and sepsis tests will be the major revenue generators.
For more information on this research, please contact Anna Zanchi, Corporate Communications: [email protected]
"Immunodiagnostics is another segment that continues to expand rapidly owing to cost-effective tests as well as the prevalence of hospital-acquired infections like sepsis and MRSA," said Frost & Sullivan Life Sciences Industry Analyst Aish Vivekanandan. "Molecular methods and immunodiagnostics are expected to complement each other as the need for accurate and rapid diagnostic tests rises."
While decentralized and rapid tests are a growing trend in the developed world, high costs affect the market in developing countries. Stringent regulations further complicate product development and marketing.
Another challenge is the low awareness of products among consumers across regions. Diagnostic companies must invest in clinical studies to prove the efficacy of their products and raise awareness among evidence-driven consumers, especially in the clinical field.
"Many participants are focusing their research on top industry requirements such as product automation, rapidity, specificity and accuracy," noted Vivekanandan. "Companies are also striving to expand the scope of diseases their products cover in order to establish their foothold in the global infectious disease diagnostics market."
Analysis of the Global Infectious Disease Diagnostics Market is part of the Life Sciences Growth Partnership Service program. Frost & Sullivan's related studies include: Global In Vitro Diagnostics Market, US Hematology Diagnostics Market, Global Next-generation Sequencing Market, and Western European Companion Diagnostics Market. All studies included in subscriptions provide detailed market opportunities and industry trends evaluated following extensive interviews with market participants.