ARIAD announces results of preclinical studies on brigatinib at AACR 2015
Posted: 22 April 2015 | Victoria White
ARIAD has announced the results of a series of preclinical studies on its investigational tyrosine kinase inhibitor, brigatinib (AP26113), at AACR 2015…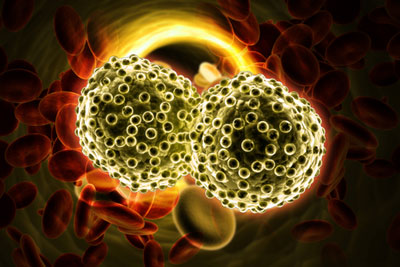 ARIAD Pharmaceuticals has announced the results of a series of preclinical studies on its investigational tyrosine kinase inhibitor (TKI), brigatinib (AP26113), at the American Association for Cancer Research (AACR) Annual Meeting 2015.
Brigatinib is in development for the treatment of patients with anaplastic lymphoma kinase positive (ALK+) metastatic non-small cell lung cancer (NSCLC), who are resistant to crizotinib.
Brigatinib has at least 10-fold greater potency than crizotinib against ALK+ NSCLC cell lines
An oral presentation, "Discovery of AP26113, a potent, orally active inhibitor of anaplastic lymphoma kinase and clinically relevant mutants", described, for the first time, the design and chemical structure of brigatinib. With the goal of designing a selective ALK inhibitor with broad-based activity against crizotinib-resistant mutants, ARIAD scientists advanced a series of novel compounds culminating in the identification of brigatinib. Brigatinib incorporates unique chemical-design features, including the distinctive use of a recognition element that confers favourable pharmacologic properties. Brigatinib has at least 10-fold greater potency than crizotinib against ALK+ NSCLC cell lines and was broadly active against clinically relevant crizotinib-resistant mutants in preclinical models.
A poster presentation, "The potent ALK inhibitor AP26113 can overcome mechanisms of resistance to first and second-generation ALK TKIs in preclinical models", showed that brigatinib, at clinically achievable concentrations, has potent anti-tumour activity against a panel of 17 distinct ALK mutants known to confer resistance to other ALK inhibitors. In a separate study designed to model the occurrence of brain metastases in ALK+ lung cancer patients, brigatinib significantly reduced the tumour burden in mice with ALK+ brain tumours compared to the tumours in mice treated with crizotinib. Survival of brigatinib-treated mice was also markedly enhanced compared to the survival duration of crizotinib-treated mice.
"These preclinical data highlight key attributes of brigatinib, including its unique design features and its potential to address two major causes of resistance to other ALK inhibitors: ALK point mutations and the occurrence of brain metastases, " said Timothy P. Clackson, Ph.D., president of research and development and chief scientific officer at ARIAD. "As the Phase 2 ALTA trial of brigatinib continues to enroll patients, we look forward to reporting additional clinical data on this internally discovered TKI."