Biotech companies present novel approaches to fight infections at ECCMID's pipeline corner
Posted: 30 April 2015 | Victoria White
Biotech companies presented new mechanisms and approaches in the global fight against infections in a pipeline session at ECCMID…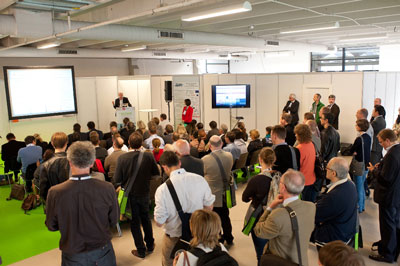 The European Society of Clinical Microbiology and Infectious Diseases (ESCMID)  announced breaking developments in the global fight against infections – with new mechanisms and approaches presented by smaller companies in a dedicated pipeline session at the annual congress (ECCMID) in Copenhagen.
Ursula Theuretzbacher, the founder of the Centre for Anti-Infective Agents in Vienna, led the session, which gave a review of the research and development programmes from across some of the most innovative and nimble European biotech companies.
It is hoped that with most large pharmaceutical companies moving out of the development of new antibacterial treatments these small innovative companies and start-ups will be able to step up with novel solutions.
Presentations covered results for novel and innovative approaches of fighting bacterial diseases
Winfried V. Kern, ECCMID Programme Director, said: "A total of 12 companies took part in the pipeline corner and pipeline talk, which featured for the first time in the ECCMID programme. The idea is to give companies with products in early stages of research and development a platform where they can display electronic posters and hold oral presentations of their approaches and programmes."
All of these companies are members of the Beam Alliance – a networking group set up specifically to represent European "antibacterial" biotech companies, giving their members a voice in this field, and promote collaboration between stakeholders involved in developing innovative products.
The presentations covered results for novel and innovative approaches of fighting bacterial diseases by focusing on tackling the most resistant bacteria. These included a wide variety of approaches ranging from chemically synthesized and natural products to tackling specific resistance mechanisms. One interesting recurrent theme was the search for very narrow spectrum and pathogen-specific antibiotics. These worked on the premise that it was promising to exploit specific differences in physiology or virulence mechanisms. It is hoped that this approach will contribute to more personalized treatments and, potentially, to one drug for one bug.
Fight against bacterial resistance moving towards the biotech arena
Ursula Theuretzbacher, added: "In Europe, there are now 50 to 60 companies focused on research and development of anti-bacterial agents, an increasing number of which are already moving into clinical stages. The fight against resistance is now clearly moving towards the biotech arena and we must continue to find ways to fund this vital research. The Driving reinvestment in research and development and responsible antibiotic use (DRIVE-AB) project, composed of 16 public and seven private partners from 12 European countries is a great example. It was established specifically to find ways of battling antimicrobial resistance and developing new economic models that incentivize the discovery and development of novel antibiotics while safeguarding their responsible use."
Murat Akova, ESCMID President, said: "At ESCMID, we are providing a platform to bring these innovators to the attention of the world in the hope more products will make it to market faster."