ME-344 shows enhanced anti-tumour activity in combination with tyrosine-kinase inhibitor in preclinical studies
Posted: 6 May 2015 | Victoria White
MEI Pharma has announced new preclinical data showing mitochondria-specific effects of the Company's investigational drug candidate ME-344 in cancer cells…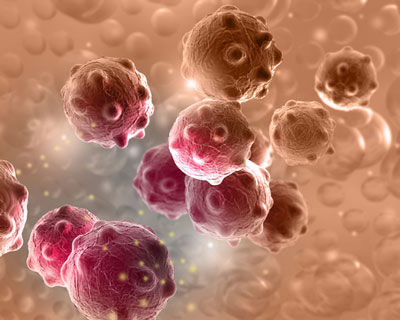 MEI Pharma has announced new preclinical data showing mitochondria-specific effects of the Company's investigational drug candidate ME-344 in cancer cells, including significantly enhanced anti-tumour activity when combined with a tyrosine-kinase inhibitor (TKI).
In addition, a recently published study found ME-344 to be a potent inhibitor of mitochondrial oxidative phosphorylation (OXPHOS) complex I, a direct molecular target.
"We continue to be very excited by the potential of this novel mitochondrial inhibitor," said Daniel P. Gold, Ph.D., President and Chief Executive Officer of MEI Pharma. "ME-344 has demonstrated broad and potent anti-tumour activity in a number of pre-clinical studies, followed by promising single-agent activity in the clinic. Now a body of data is emerging that show compelling anti-cancer effects when combining ME-344 with anti-angiogenic agents, such as TKIs, to inhibit both mitochondrial and glycolytic metabolism. These new data will help to direct future studies of ME-344 as we near completion of our Phase Ib study in small cell lung and ovarian cancers."
In a paper published in the most recent issue of American Journal of Cancer Research, the Company's collaborators at the MIMR-PHI Institute of Medical Research in Melbourne identified mitochondrial OXPHOS complex I as a direct molecular target of ME-344, its inhibition causing an immediate reduction of mitochondrial oxygen consumption. This important finding provides new understanding of how ME-344 induces cell death by disrupting mitochondrial metabolism.
ME-344 caused instantaneous and pronounced inhibition of oxygen consumption rates in drug-sensitive lung cancer cells
To gain further insight into its mechanism of action, researchers at the Medical University of South Carolina in Charleston compared the activity of ME-344 in sensitive and naturally resistant lung cancer cell lines. In a dose dependent manner, ME-344 caused instantaneous and pronounced inhibition of oxygen consumption rates in drug-sensitive lung cancer cells, but significantly less in drug-resistant cells. Notably, drug resistance correlated with higher glycolytic metabolism in these cells.
Using a well-characterised spontaneous breast tumour model, researchers at the Spanish National Cancer Research Centre in Madrid found that chronic treatment with the small molecule TKI nintedanib (formerly BIBF 1120) significantly diminished tumour cell glycolysis, however the growing tumour shifted to reliance on mitochondrial metabolism as its primary energy source. Subsequently, tumours primed by treatment with nintedanib showed significantly enhanced sensitivity to the mitochondrial inhibitor ME-344, with synergistic anti-tumour activity.
These findings are presented in a poster, entitled "ME-344, a novel isoflavone with activity as a mitochondrial oxygenase inhibitor." An abstract of the presentation can be found on the American Association for Cancer Research (AACR) website at aacr.org.
In Phase I study of ME-344, five patients experienced progression-free survival that was at least twice the duration of last prior treatment
Results from MEI Pharma's Phase I study of ME-344 were recently published in the 1 April 2015 issue of Cancer. The study showed evidence of single-agent activity in patients with refractory solid tumours, including five patients who experienced progression-free survival that was at least twice the duration of their last prior treatment. Notably, one patient with small cell lung cancer achieved a confirmed partial response and remained on study for 104 weeks.
In May 2014, the Company initiated a Phase Ib clinical trial of ME-344 in combination with topotecan, a drug approved by the U.S. Food and Drug Administration (FDA) for the treatment of small cell lung, ovarian and cervical cancers. In October 2014, the first patient was dosed in the cohort-expansion stage of the study after the initial stage confirmed the maximum tolerated dose of ME-344 at 10 mg/kg in combination with 4 mg/m2 of topotecan. The combination of ME-344 and topotecan has been generally well tolerated in the study. The Company expects to present data from the ovarian cancer cohort at a scientific meeting during the fourth quarter of 2015.