Pfizer and MSD to collaborate on innovative anti-cancer combination studies
Agreement to combine MSD's investigational anti-PD-1 and key Pfizer oncology assets…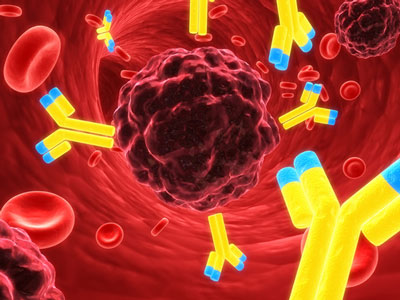 Pfizer Inc. (NYSE:PFE) announced today that it has agreed with Merck & Co., Inc., known as MSD outside the United States and Canada ("MSD"), through two MSD subsidiaries, to explore the therapeutic potential of MSD's investigational anti-PD-1 therapy, MK-3475, in combination with two Pfizer oncology assets. A Phase I/II clinical study will evaluate the safety and anti-cancer efficacy of MK-3475 combined with Pfizer's axitinib (INLYTA®) in renal cell carcinoma (RCC). A separate Phase I study will evaluate the safety and tolerability of the combination of MK-3475 and PF-05082566 (PF-2566), Pfizer's investigational, fully humanized monoclonal antibody (mAb) that stimulates signaling through 4-1BB (CD-137), a protein involved in regulation of immune cell proliferation and survival.
"There has been notable progress in the cancer immunotherapy field over the last year, with new clinical data showing promising efficacy and tolerability for emerging therapies – particularly those that target the PD-1 pathway," said Dr. Mace Rothenberg, senior vice president of Clinical Development and Medical Affairs and chief medical officer for Pfizer Oncology. "These investigational therapies, which harness the body's immune system to treat disease, may hold the greatest potential for patients with cancer when used in combination with other immuno-oncology agents, like PF-2566, to amplify anti-tumor immune responses, or with targeted agents, like axitinib, to optimize their effectiveness. We are pleased to collaborate with MSD to study a diverse group of our anti-cancer agents in combination with MK-3475, with the goal of identifying more efficacious treatment options for patients."
"We are pleased to be collaborating with Pfizer to study MK-3475 as part of these novel combination regimens," said Dr. Eric Rubin, vice president, clinical development for oncology, MSD Research Laboratories. "Early evaluation of immunotherapeutic combinations is important toward potentially accelerating the development of new options for patients with cancer."
Pfizer will conduct the clinical studies of MK-3475 plus axitinib and MK-3475 plus PF-2566. This agreement does not provide for any collaboration between Pfizer and MSD following the completion of the specified studies.
Financial terms were not disclosed.
Under a separate agreement Pfizer and MSD are currently exploring the pre-clinical combination of MK-3475 with Pfizer's investigational therapy palbociclib (PD-0332991). MSD is conducting these pre-clinical studies. Further studies would depend on the outcome of the ongoing pre-clinical studies as well as subsequent agreement by MSD and Pfizer.