Effimune launches Phase I clinical trial of FR104
Posted: 10 July 2015 | Victoria White
Effimune has started its Phase I clinical evaluation of FR104, its drug candidate in the immune system regulation control…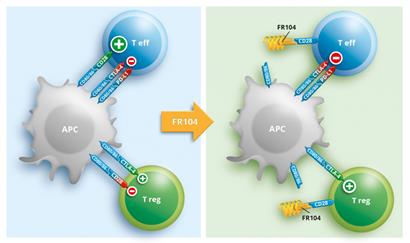 Effimune has started its Phase I clinical evaluation of FR104, its drug candidate in the immune system regulation control.
Following the announcement of regulatory approval by the FAMHP (Federal Agency for Medicines and Health Products, the Belgian regulatory authority), the roll out of the clinical trial has started. To date the first cohort has been successfully included with 22 volunteers recruited for the first phase of the trial, which is an escalating single-dose study of FR104.
This double-blind randomised clinical trial is planned on 70 healthy volunteers (both men and women) over a period of 10 months, and will prepare for the future development of FR104 in rheumatoid arthritis treatment and kidney and stem cell transplantation. The primary objectives of the trial are to establish the safety and tolerability of FR104 and assess its pharmacodynamics and pharmacokinetics.
FR104 blocks the destructive function of effector T-cells
FR104 is a new drug candidate, fruit of Effimune's R&D and based on high-quality academic research. FR104 is a monoclonal antibody fragment, a specific antagonist of CD28, a central element in the signaling pathway of T-lymphocytes. FR104 blocks, in a targeted manner, the destructive function of effector T-cells but not the function of regulatory T-cells, thus promoting immune tolerance.
"With the first individuals entered in the study, we confirm the good preclinical results for the antagonist-only action of our immunomodulator, which is very encouraging for the future," said Bernard Vanhove, Effimune CEO.