Regen BioPharma initiates NR2F6 T-cell immunotherapy preclinical studies
Posted: 12 November 2015 | Victoria White
The studies will evaluate the utilisation of NR2F6 gene silencing as a means of stimulating the immune system in cancer patients…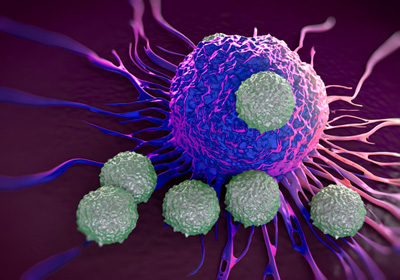 Regen BioPharma has announced the initiation of preclinical studies evaluating utilisation of NR2F6 gene silencing as a means of stimulating the immune system in cancer patients.
For the studies, Regen BioPharma has partnered  with Dr Santosh Kesari, Professor of Neurosciences, Director of Neuro-Oncology, and Chair of Translational Neuro-Oncology and Neurotherapeutics at the John Wayne Cancer Institute. The studies will examine if NR2F6 silencing can be translated into human immune cells. If successful, these studies will serve as the basis for a new cancer immunotherapeutic drug candidate, which would be useful as a monotherapy or adjuvant with other cancer immune therapies.
"We have previously filed patents and to date have been granted allowance on one, covering compositions of matter capable of silencing NR2F6, means of screening drugs that modulate NR2F6, and various biological activities of this gene. Additionally, we have previously been successful at developing a clinical candidate, dCellVax, which is currently in front of the FDA, as a means of treating cancer. The current programme seeks to leverage our existing know-how and intellectual property in order to develop a simple drug candidate applicable to numerous cancers," said Harry Lander, Ph.D., MBA, President of Regen BioPharma. "We are highly enthusiastic about working with Dr Kesari, a well-respected researcher and oncologist in cancer immunotherapy to mature this technology out of the laboratory and into the clinic."
NR2F6 programme aims at directly stimulating the adaptive immune system
Regen's dCellVax product involves extraction of blood from cancer patients, generating immune stimulatory cells termed dendritic cells, silencing an immune suppressive gene in the cells outside of the body, and subsequently administering these cells to the same patient. In the new programme, Regen is performing essentially the same process but in T cells of the patient, and using its proprietary NR2F6 gene silencing technology.
"The immune system has two arms, the innate, and the adaptive, both of which have been demonstrated to contribute to killing of tumours," said Dr Kesari. "While dCellVax operates at the level of the innate immune system, the NR2F6 programme aims at directly stimulating the adaptive immune system at killing cancer. By initiating these experiments, we hope to offer diversity and potentially synergistic therapies for cancer patients."