miR-124 reduces tumour growth in advanced prostate cancer
Posted: 18 November 2015 | Victoria White
miR-124 hit multiple targets, reducing androgen receptor signalling and reviving the potency of advanced prostate cancer treatment Xtandi (enzalutamide)…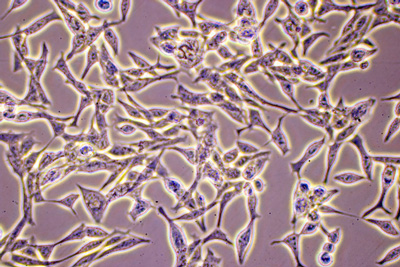 Researchers have shown that the microRNA miR-124 reduced tumour growth and increased cell death in castration-resistant prostate cancer.
This small RNA fragment hit multiple targets, reducing androgen receptor signalling and reviving the potency of advanced prostate cancer treatment Xtandi (enzalutamide). In addition, miR-124 impeded EZH2 and Src, proteins that contribute to treatment resistance.
"Castration-resistant prostate cancer kills about 29,000 men in this country each year; it's why men die from prostate cancer," said Ralph de Vere White, director of the UC Davis Comprehensive Cancer Centre. "But miR-124 shows great promise – you can give it systemically, it stops tumour growth and it makes enzalutamide more effective."
Prostate cancer feeds on androgens, or male hormones, making androgen-deprivation therapy the mainline treatment for many men with metastatic prostate cancer. But over time, tumours learn to grow without androgens, requiring new treatments, such as enzalutamide, which inhibits androgen receptors.
This can work for a while, but prostate cancers soon develop resistance. Specifically, advanced tumours can produce androgen receptor splice variants (receptors with missing pieces) making it difficult for enzalutamide to hook on – like climbing a ladder after the bottom rungs have been removed. In addition, these mutations can promote cancer aggressiveness.
The efficacy of enzualutamide increased to 68% when combined with miR-124
The answer may be miR-124, a small, non-coding RNA that can block a number of targets associated with cancer resistance and aggression.
In the study, miR-124 was married to polyethylenimine nanoparticles, which helped deliver the molecules to human tumours in mice. Once inside the tumours, miR-124 successfully downregulated androgen receptors, including several splice variants, as well as oncoproteins EZH2 and Src. In addition, the microRNA helped boost anti-tumour protein p53 and increased apoptosis.Equally important, miR-124 rebooted enzalutamide against resistant cancer. Enzalutamide alone was effective in 10% of resistant cells lines. However, the drug's efficacy increased to 68% when combined with miR-124.
"This is proof of principle that miR-124 is a legitimate therapy," said de Vere White. "The hope is that we can use this in patients to make enzalutamide more effective."