TSRI scientists reveal potential treatment for dangerous viral infections
Posted: 23 November 2015 | Victoria White
Scientists have shown how a previously unknown process works to promote infection in a number of dangerous viruses, including dengue, West Nile and Ebola…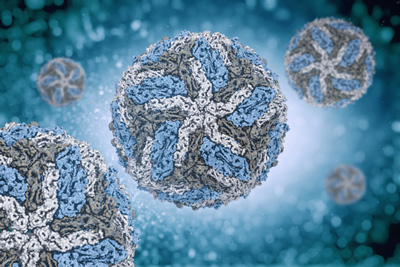 Scientists have shown how a previously unknown process works to promote infection in a number of dangerous viruses, including dengue, West Nile and Ebola.
The new study also points to a potential treatment, an experimental antibiotic that appears to inhibit infection by these deadly viruses, all of which lack vaccines and treatments.
The study was led by The Scripps Research Institute (TSRI) Associate Professor Hyeryun Choe: "Most of these viruses use a specific molecule to enter cells. In the new study, we were able to show how a second molecule plays a major and previously unknown role in that process. We also show an antibiotic called duramycin inhibits the actions of this molecule. This looks to be a promising broad-spectrum antiviral strategy and deepens our understanding of the entire infection process."
The viruses, including those from the flavivirus and filovirus families, take advantage of the process that normally occurs during programmed cell death or apoptosis. During this process, a lipid usually found on the inner side of the cell membranes, specifically phosphatidylserine (PS), shifts to the surface. Apoptosing cells are then recognised by PS receptors on phagocytes and engulfed by them.
When cells are dying from a virus infection, their freshly exposed PS is grabbed by the exiting virus and phagocytes engulf the virus. Once engulfed, the virus quickly turns the cell's own biology on its head, forcing it to produce copies of the virus.
PE-inhibitors like duramycin have potential
In the new study, Choe and her colleagues showed how another lipid known as phosphatidylethanolamine (PE), which is present on the viral surface, also contributes to the viral entry process.
"Despite the name, we found that PS receptors also detect PE, and viruses are able to take advantage of the abundance of PE on their surface," said Audrey Stéphanie Richard, a research associate in the Choe lab. "Through their PE, they latch onto the PS receptors on the host cell, taking control of the process and insuring entry and replication."
Duramycin blocks viral entry into the cells by binding to the virus's PE, preventing the virus from using it to latch onto the PS receptors on the cell. Duramycin, which is currently used as an imaging agent, binds specifically to PE.
Disrupting the relationship between these two molecules could open the door to new and novel antiviral strategies, potentially including duramycin and similar PE-inhibitors.
"This new study goes a long way in helping us understand how so-called PS receptors contribute to flavivirus and filovirus infections and how we can block them through the PE-binding compounds," Choe said.