Directing a weaponised attack on cancer with Natural Killer Receptor T-Cells
Posted: 23 February 2016 | Dr Frédéric Lehmann, VP Immuno-Oncology, Celyad | No comments yet
Natural killer receptor T-cells have the potential to become a real game changing treatment for patients with cancer. Here, Dr Frédéric Lehmann, VP Immuno-Oncology, Celyad, discusses this new cancer fighting technology…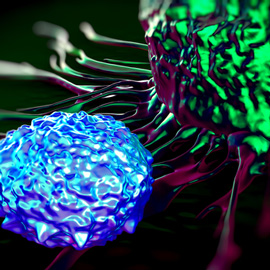 Immunotherapy, and more especially immuno-oncology, represents an innovative approach to cancer treatment by engineering the body's own immune cells to fight against cancer cells.
Today's most advanced treatment options – which have seen a dramatic acceleration in research over the last 18 months – are the Chimeric Antigen Receptor or CAR T-cell therapies. Today, several engineered CAR T-cell therapies are in development with more expected to enter testing over the next few years.   One very unique approach uses a receptor found on Natural Killer Cells (a type of cytotoxic lymphocyte critical to the innate immune system) and adds it to T-cells resulting in a 'weaponised' T-Cell (T lymphocyte). Based on compelling results in animal studies, this unique combination has the potential to become a real game changing treatment for patients. Celyad, a growing company specialised in cell therapy engineering, is in a good position to become a global leader with this new cancer fighting technology. Celyad has indeed quickly taken steps to test these so-called Natural Killer Receptor T-cells or NKR T-cells in cancer patients. Initial trial results are expected mid-2016 which the company hopes will open up new avenues to test NKR T-cells ability to fight various cancers.
A cell therapy that is inspired from the body's own immune mechanisms
CAR-T cells are basically engineered from the patient's immune T-cells that are modified or engineered to express a Chimeric Antigen Receptors (CARs) that will recognise cancer-specific antigens. Several biotech and big-pharma companies are all using this type of technology to create a CAR targeting CD19 antigens found on B-cell lymphomas. The cells are collected from the patient's blood. They are transfected (genetically modified), grown in the lab, and infused back into the patient. By creating a CAR T-cell using an antibody as the targeting mechanism, this method restricts the engineered T-cells to recognising only one tumour antigen, in this case, CD19. Targeting CD19, while showing promising signs in the clinic, can only be used for a very limited set of cancers (in the case CD19 positive haemotological cancers). In this approach, a new antibody and T-Cell construct must be created to target other cancer types (one construct for one target).
NKG2D: a unique construct targeting 80% of cancer types…
At Celyad, we have adopted a different approach to develop T-cell cancer immunotherapies. Our oncology programme builds on work conducted by Professor Charles Sentman and his team at Dartmouth University (Hanover, NH, USA). Using novel science and his unique understanding of the immune system, Sentman demonstrated in animal models preclinical efficacy of T-cells transduced with a naturally occurring, activating receptor called Natural Killer Group 2D (NKG2D).  Specifically, the method generates a CAR by fusing a human NKG2D protein with the human CD3 zeta cytoplasmic signaling domain. This combination uses the NKG2D receptor as the targeting mechanism, not an antibody, and 'weaponises' the T-cell becoming a Natural Killer Receptor T-Cell or NKR T-Cell. One of the lead assets of this unique and different construct is called NKR-2 (Natural Killer Receptor NKG2D) and exploits the ability of Natural Killer Receptors to recognise at least eight ligands of NKG2D present on potentially 80% of liquid and solid tumours.
… and inducing an adoptive immune-response
The ability to target and bind with such a large number of ligands is one of the advantages of NKR T-Cells. These ligands, which are over expressed on diseased or stressed cells, are signal-triggering molecules informing the immune system of unhealthy cells that should be removed from the body. Some low levels of ligand expression have been detected on normal tissues but no immune-mediated toxicity (the 'on-target off-tumor' effect) which has been associated with other immunotherapies, has been observed with NKR-2 T-cells. Complete remissions and durable CD4+ and CD8+ T-cell responses have been demonstrated in animal models of lymphoma, myeloma, and ovarian cancer following therapy with
NKR-2 T-cells.  In addition, NKR-2 T-cells significantly alter the tumor microenvironment through cytokine secretion to further promote lasting anti-tumor immunity.
Exploring the potential of both the autologous and the allogeneic approach to offer more alternatives to the patients
Celyad is also actively conducting preclinical evaluations of an allogeneic engineered T-cell therapy using the natural killer receptor NKG2D. The cell engineering process is comprised of obtaining T-cells from a healthy donor, transducing the T-cell to express the receptor NKG2D but also to reduce or eliminate the expression of a T-Cell Receptor (TCR) thanks to a TCR Inhibitory Molecule (TIM).  It is the TCR from a donor that can be recognized by the patients' immune system as 'foreign' resulting in a 'rejection' called Graft versus Host Disease (GvHD). This reaction can be serious putting the patient at high risk and rendering the cell therapy ineffective. 
By eliminating the donor's TCR the potential risk of rejection is greatly reduced and the allogeneic NKR T-cells fully function to attack and kill cancer cells. The allogeneic approach holds promise by providing a very effective therapy, streamlining cell therapy production making the process more efficient and reducing the time from diagnosis to treatment.
A first-in-class platform in immuno-oncology
Thanks to its unique technology, Celyad is at the forefront of using landmark science to forge its own path in the CAR-T category. To date, research indicates NKR-2 T-Cells have an attractive set of therapeutic attributes, such as; the ability to directly kill cancer cells, the activation of a broad immune response, and the creation of an adoptive immunity to ward off recurrence of the cancer. These characteristics, along with the ability of NKR-2 T-cells to recognise eight different ligands and target both liquid and solid tumours, have the potential to be used more widely and treat more cancer types than any other single molecule in clinic today.
NKR-2 is being evaluated clinically in a phase I/IIa dose-escalation study (ClinicalTrials.gov NCT02203825) at Dana-Farber Cancer Institute (DFCI). The aim of this first-in-human trial of NKR-2 T-cells is to assess safety and feasibility in Acute Myeloid Leukaemia/Myelodysplastic (ALM) syndrome and Multiple Myeloma (MM). No safety issues have been observed so far and initial trial results are expected mid-2016.
Biography

Dr Frédéric Lehmann has extensive experience in oncology drug development spanning early to late phase, including clinical trial design, translational research, regulatory interactions, and clinical risk management. He is a physician by training and started his academic career at the Ludwig Institute for Cancer Research in Brussels, followed by a position at the Institute Jules Bordet. He then moved to the European Organization for Research and Treatment of Cancer (EORTC) as Medical Advisor. Dr Lehmann began his corporate career at GlaxoSmithKline, where he led the early worldwide clinical development programme for the Company's cancer vaccines and went on to lead the research and development incubator for cancer immunotherapeutics.