Oxford Global's Drug Discovery USA Congress 2014 new hot topics released & regsitration is closing soon
Oxford Global Conferences are proud to present the Drug Discovery USA Congress, taking place on 21 – 22 October at the Hyatt Boston Harbor Hotel, Boston, USA…
Oxford Global Conferences are proud to present the Drug Discovery USA Congress, taking place on 21 – 22 October at the Hyatt Boston Harbor Hotel, Boston, USA. We are delighted to announce new hot topics for this congress.
This event will look at the emerging methodologies in a series of core areas, including open innovation, external research, high content analysis and knowledge-based design. Expert speakers will also tackle the big debates currently affecting research pipelines – Should we prioritise phenotypic over target-based screening? How will we utilise discovery data later in the pipeline? What can Big Pharma learn from successful biotechs?
The latest hot topics for Oxford Global's Drug Discovery USA Congress include: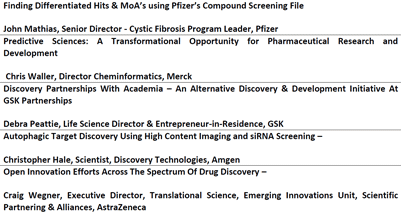 With help from industry specialists Oxford Global carefully design the speaker programme to ensure we deliver the highest level of expertise to our delegates. We are proud to announce the following speakers will be presenting at this years Drug Discovery Congress USA:
Branko Stefanovic: Professor of Biomedical Science, Florida State University – Noval Approach to Discovery of Antifibrotic Drugs: Target Validation, High Throughput Screening and Discovery of a Lead Compound.
Greg Welmaker: Director of Drug Discovery, Torrey Pines Institute for Molecular Studies – An Alternative Approach To The Standard HTS – High-throughput Screening In Any Assay, Including Low Samply Throughput Assays Not Amenable To Robotic Platforms.
Paolo Martini: Senior Director at Shire has confirmed that he will present a case study on Shire's Way to Approach Rare Genetic Disorders.
To view a full list of confirmed speakers at this two-day event, please visit (http://www.discoveryusa-congress.com/speakers/)
Register your interest today to hear over 40 outstanding case studies and presentations, across four interactive streams:
R&D Models For The Future
Screening & Assays: Enabling Technologies
Discovery Chemistry & Drug Design
Supporting Innovation: Translational Approaches & Informatics Tools
Please download the conference programme to view the full agenda in more detail.
(http://www.discoveryusa-congress.com/download-agenda-marketing/)
Drug Discovery Congress Registration is Closing Soon:
With exclusive registration closing offers available and very limited space left to attend, don't miss out on registering your interest now to secure access to the Drug Discovery Congress.
Contact Danielle Dalby today on +44(0) 1865 248455 or e-mail [email protected] for more information on how to book a delegate place.