Kymab and the Wellcome Trust initiate Ebola Project
Posted: 16 December 2014 | Kymab
Kymab, a monoclonal antibody biopharmaceutical company, founded on research from the Wellcome Trust Sanger Institute announces that it has been awarded a grant from the Wellcome Trust to lead a consortium developing new treatments in the fight against Ebola…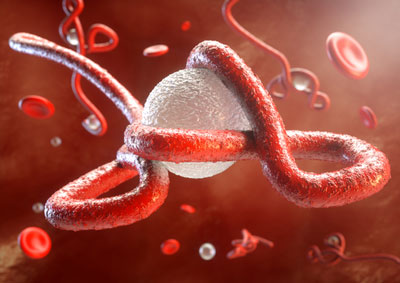 Kymab, a monoclonal antibody biopharmaceutical company, founded on research from the Wellcome Trust Sanger Institute announces today that it has been awarded a grant from the Wellcome Trust to lead a consortium developing new treatments in the fight against Ebola.
Kymab will use its human antibody discovery platform (Kymouse™) and antibody development expertise in partnership with academic groups from the Wellcome Trust Sanger Institute, the University of Westminster and Public Health England to rapidly discover and develop therapeutic antibodies. The ambitious goal of the Ebola project is to discover antibodies that act against different strains of the Ebola virus, which is changing significantly from one outbreak to the next.  Such antibodies will be useful to effectively and safely treat people who contract this deadly disease.
Dr Jeremy Farrar, Director of the Wellcome Trust, commented: "The Ebola outbreak in West Africa is unprecedented and requires a variety of public health interventions to bring it under control, a crucial part of which are new drugs and treatments. The crisis has shown that we need to be better prepared for future epidemics, and the Wellcome Trust is delighted to be part of this collaborative effort to develop drugs that might treat both current and emerging strains of the virus, using an approach that may also apply to other emerging infections."
Dr Christian Grøndahl, Chief Executive Officer of Kymab, commented: "I am proud that Kymab has been entrusted with this very important and difficult task which will allow us to contribute to the discovery of a breakthrough treatment for Ebola infections. The world has not been prepared for this major outbreak and we in the biomedical community need to contribute our efforts and technologies to assist in making medicines to fight Ebola and other infectious disease epidemics."
Professor Allan Bradley, Founder and Chief Technology Officer of Kymab, added: "Kymab has assembled a consortium of leading academics and biotechnology professionals that are well matched to the challenge of quickly discovering and mass-producing antibody-based drugs to treat this dangerous infection. We set ourselves an ambitious goal to discover broadly neutralising antibodies against the Ebola virus and through our genetic understanding of how the Ebola virus can quickly drift and mutate, we aim to make a medicine that could potentially treat future outbreaks."
Professor Roger Hewson, a scientific leader at Public Health England said: "Public Health England scientists have been working tirelessly both on the ground in West Africa and at home to support international efforts to combat the Ebola outbreak, and we are pleased to be able to use our expertise to work in partnership with the Wellcome Trust Sanger Institute, Kymab and the University of Westminster to support research into Ebola treatment."
Kymab's world-class research originated five years ago at the Wellcome Trust Sanger Institute – a pioneer in sequencing of the human genome. Kymab's transgenic human antibody platform (Kymouse™) enables it to discover and develop fully human, monoclonal antibody drugs, including a current focus on treatments for cancer, immune system disease and infectious disease.