Astellas and Potenza enter R&D collaboration for immuno-oncology therapeutics
Posted: 22 April 2015 | Victoria White
Astellas and Potenza have entered an exclusive R&D collaboration. The agreement includes an option for the future acquisition of Potenza by Astellas…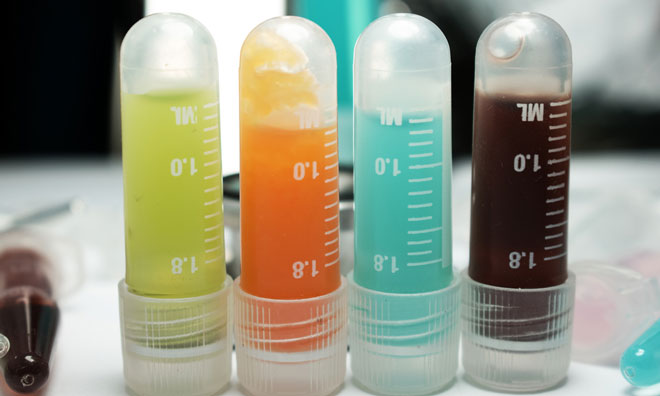 Research vials used with immunotherapy
Astellas Pharma and Potenza Therapeutics have entered in to an exclusive research and development collaboration. 
The goal of the collaboration is to advance a portfolio consisting of programmes with novel mechanisms of action targeting immune checkpoint pathways, co-stimulatory signals and regulatory T-cells. The agreement includes an option that allows for the future acquisition of Potenza by Astellas on pre-determined terms at the end of the collaboration period.
"We are at the beginning of a new era in cancer therapy. First generation immuno-oncology therapeutics have demonstrated meaningful clinical benefit to patients with certain cancers. The new targets and pathways that Potenza is working on offer promise for continued expansion of immunotherapy treatment options," said Daniel Hicklin, PhD, co-founder of Potenza and the company's Chief Executive Officer. "We are excited to partner with Astellas to progress our programmes in support of their strategy to become a global leader in oncology and next-generation therapeutics."
Collaboration part of Astellas' cancer immunotherapy strategy
Under the terms of the collaboration agreement, Potenza will lead drug discovery activities and deliver development candidates to Astellas. Astellas will be responsible for clinical development activities and commercialisation. Specific financial terms have not been disclosed. 
"Despite the recent clinical success of checkpoint-blocking monoclonal antibodies targeting PD-1, PD-L1 and CTLA-4, there still remains significant unmet medical need in non-responder patients and unresponsive tumour types. Astellas is focusing on this unmet medical need with novel mechanisms of action and modalities," said Kenji Yasukawa, Ph.D., Senior Vice President and Chief Strategy Officer, at Astellas. "I am pleased that we are collaborating with Potenza, whose team of scientific founders, management and venture capitalists all have a proven track record in the field of cancer immunotherapy. This collaboration is one piece of Astellas' cancer immunotherapy strategy, and we will continue to make aggressive investments in this field."