AstraZeneca invests in its Cambridge lead discovery centre
Posted: 20 November 2015 | Victoria White
The company has announced three new partnerships that will deliver a collaborative screening platform, space-age robotics, and sound waves that can move liquids…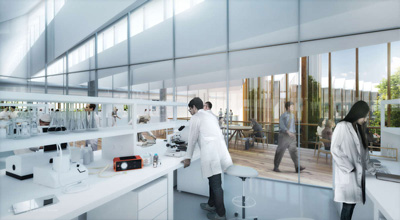 AstraZeneca has announced three new partnerships that, it says, will deliver industry-leading technologies to drive the AstraZeneca MRC UK Centre for Lead Discovery in the search for novel small molecule medicines.
The partnerships will ensure state-of-the-art screening and compound management at the facility, which will be located within the company's new global R&D centre at the Cambridge Biomedical Campus in the UK. It will screen around 2 million chemical structures per target to find new compounds for disease targets.
One of the partnerships will use the energy of sound waves to dispense compounds directly from individual storage tubes into well plates for testing. This comprises fully-automated liquid handling by Labcyte, automated liquid storage systems by Brooks Automation, and a co-developed acoustic sample storage tube. Acoustic dispensing is contactless, eliminating the use of pipettes and reducing the compound volumes by 10-fold. The system also increases automated retrieval of compounds from storage, enabling any compound from AstraZeneca's collection to be selected for any screen in the UK Centre for Lead Discovery.
AstraZeneca to be the first pharma adopter of HighRes Biosolutions' advanced robotics
Another partnership involves a three-year agreement with HighRes Biosolutions. HighRes Biosolutions will develop next generation, intelligent robots for the high throughput screening of compounds. The ultra-light weight, maximum strength robots use technology originally developed for the European Space Agency. A feature of the robots is that scientists can interact with them directly rather than being separated by a protective shield, allowing them to perform diverse research applications with a mobility that maximises efficiency. AstraZeneca will be the first adopter of this advanced robotics within the pharmaceutical industry.
AstraZeneca has also formed a five-year collaboration with Genedata to speed data sharing with partners. The partnership centres on a software platform to help expedite collaborations in drug discovery and reduce data analysis costs. AstraZeneca will become one of the largest users of the collaboration platform software, which it will share with its early stage partners.
Steve Rees, Vice President, Screening Sciences & Sample Management, Discovery Sciences, AstraZeneca, said: "Working together with leading technology providers, we are creating cutting-edge capabilities for compound management and screening. This will deliver new ways of working, help reduce costs and transform our ability to identify new molecules that could become medicines of the future."