AstraZeneca and Moderna enter mRNA therapy collaboration
mRNA-based therapies are an innovative treatment approach that enables the body to produce therapeutic protein in vivo, opening up new treatment options for a wide range of diseases…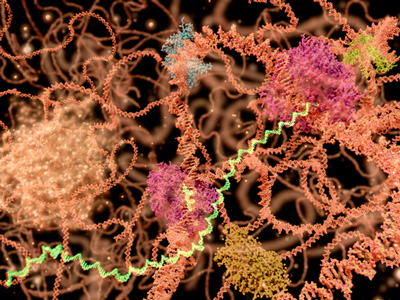 AstraZeneca, along with its global biologics research and development arm, MedImmune, and Moderna Therapeutics are teaming up to discover, co-develop and co-commercialise messenger RNA (mRNA) therapeutic candidates for the treatment of a range of cancers.
The collaboration is in addition to the agreement announced by the companies in 2013 to develop mRNA Therapeutics for the treatment of cardiovascular, metabolic and renal diseases as well as selected targets in oncology.
The collaboration will combine MedImmune's protein engineering and cancer biology expertise with Moderna's mRNA platform. mRNA-based therapies are an innovative treatment approach that enables the body to produce therapeutic protein in vivo, opening up new treatment options for a wide range of diseases that cannot be addressed today using existing technologies.
AstraZeneca and Moderna to collaborate on two programmes
Under the terms of the new agreement, AstraZeneca and Moderna have agreed to collaborate on two specific immuno-oncology programmes, based on promising preclinical data. Moderna will fund and be responsible for discovery and preclinical development of product candidates, with the aim of delivering one Investigational New Drug (IND) application-ready molecule for each of the two programmes. AstraZeneca will be responsible for early clinical development, led by MedImmune, and Moderna and AstraZeneca will share the costs of late-stage clinical development. The two companies will co-commercialise resulting products in the US under a 50:50 profit sharing arrangement. AstraZeneca will lead ex-US commercialisation efforts, with Moderna receiving tiered royalties up to substantial double digits on ex-US sales.
Commenting on the announcement, Pascal Soriot, Chief Executive Officer, AstraZeneca, said: "We're pleased to be expanding our relationship with Moderna with this new collaboration, to advance the potential of pioneering messenger RNA technology in developing game-changing new treatments for cancer patients."
Moderna's Chief Executive Officer, Stéphane Bancel, added, "This new agreement with AstraZeneca demonstrates the effectiveness of our existing relationship and the power of our mRNA technology. We're gratified to deepen our relationship with AstraZeneca and MedImmune with this major initiative, and we look forward to getting underway immediately with our new joint immuno-oncology programmes."