Moderna discuss mRNA therapeutics in cystic fibrosis
Posted: 22 July 2016 | Victoria White, Digital Content Producer | No comments yet
Drug Target Review recently caught up with Lorence Kim, Chief Financial Officer of Moderna, to find out more about the company's collaboration with Vertex and using mRNA therapeutics to treat patients with cystic fibrosis…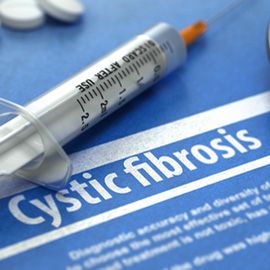 Cystic fibrosis (CF) is a debilitating, life-limiting condition that affects approximately 10,500 people in the UK and 100,000 people around the world.
The condition is caused by a single defective gene, the cystic fibrosis transmembrane (CFTR) protein, that results in the internal organs, especially the lungs and digestive system, becoming clogged with thick sticky mucus resulting in chronic infections and inflammation in the lungs and difficulty digesting food. As explained by Caroline Richards in a recent article, only two disease modifying treatment options currently exist – Kalydeco (ivacaftor) and Orkambi (a combination of ivacaftor and lumacaftor), both developed by Vertex Pharmaceuticals.
But now Moderna Therapeutics has teamed up with Vertex Pharmaceuticals to discover and develop messenger Ribonucleic Acid (mRNA) Therapeutics to treat the underlying cause of CF by enabling cells in the lungs to produce functional copies of the CFTR.
Drug Target Review recently caught up with Lorence Kim, M.D., Chief Financial Officer of Moderna, to find out more about the collaboration and mRNA therapeutics.
Dr Kim explained more about Moderna's role in the partnership with Vertex: "Moderna will lead discovery efforts, leveraging its leading mRNA platform technology and mRNA delivery expertise along with Vertex's scientific experience in CF biology and the functional understanding of CFTR, as well as the company's proprietary assay platform that utilises human bronchial epithelial (HBE) cells of multiple different CF gene mutations from people with CF. Vertex will lead all preclinical, development and commercialisation activities associated with the advancement of mRNA Therapeutics that result from this collaboration and will fund all expenses related to the collaboration."
But what are mRNA Therapeutics? Dr Kim explained: "mRNA is responsible for carrying genetic instructions transcribed from DNA, which cells then translate to produce proteins that, when defective or missing, can underlie certain diseases, including CF. Using its proprietary mRNA technology, Moderna is advancing mRNA Therapeutics that are designed to trigger the body's cellular machinery to produce specific functional proteins.  Across its internally led development programmes and partnered programmes, Moderna's pipeline spans a broad spectrum of therapeutic areas and diseases, including rare diseases, oncology, immuno-oncology, infectious diseases and cardiovascular disease, among others."
mRNA Therapeutics may be applicable to any person with CF
In terms of the potential for treating cystic fibrosis, Dr Kim said that mRNA Therapeutics may enable the delivery of correct genetic instructions into cells in the lungs, which may then trigger the cells to produce functional CFTR protein. Dr Kim added that this approach could be applicable to any person with CF, regardless of a person's specific CFTR mutations.  
As explained earlier, only two disease modifying treatment options exist for CF patients- Vertex's Kaydeco and Orkambi. Dr Kim explained more about these therapies and other developments in the CF treatment market: "Vertex's two approved CF medicines, known as CFTR modulators, are designed to treat the defective CFTR protein in people with specific mutations in the CF gene.
"In addition to its collaboration with Moderna on mRNA-based therapies, Vertex is also advancing other potential medicines for the treatment of CF, including additional CFTR modulators as well as other collaborative approaches, including sodium channel inhibition and gene editing. These approaches may be complementary to CFTR modulation and/or each other, or they could play an even more disruptive role in CF treatment. The roles of these different approaches will be defined over time as each advances."
Dr Kim added that the mRNA-based approaches would complement existing approaches: "Because mRNA is responsible for carrying genetic instructions from DNA to produce proteins, mRNA-based therapeutics for CF will be designed to enable cells to produce functional CFTR proteins rather than to treat dysfunctional CFTR proteins after they have been produced."