SSPC – advancing science from molecule to medicine
Posted: 6 August 2015 | Synthesis and Solid State Pharmaceutical Centre (SSPC)
Read how the Synthesis and Solid State Pharmaceutical Centre (SSPC) is positioning Ireland as a global hub for advanced pharmaceutical manufacturing…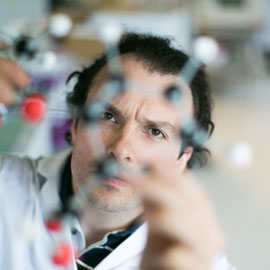 SSPC Dr Luis Padrela, LT2 Postdoctoral Researcher, University of Limerick, researching the tailoring of crystal size distributions for improved formulation performance
The Science Foundation Ireland (SFI) Research Centres Programme was established in 2012 to develop a set of world-leading, large scale research centres in Ireland that would deliver major economic and social impact.
With a total of €545 million in Government and industry funding to date, twelve centres focused on various and strategic research sectors have been established. The Centres link scientists and engineers in partnerships across academia and industry to address critical research questions, help develop new and existing technology companies in Ireland, attract industry and expand science and engineering educational and career opportunities in Ireland.
Established in July 2013, one of these centres, the Synthesis and Solid State Pharmaceutical Centre (SSPC) hosted at the University of Limerick in Ireland's mid-west region, is positioning Ireland as a global hub for advanced pharmaceutical manufacturing and cutting-edge research innovation in drug development and processing.
With approximately 120 (bio)pharmaceutical companies and nine of the world's top ten pharmaceutical companies based in Ireland, pharmaceutical manufacturing contributes significantly to Ireland's economy. It employs over 25,000 individuals directly and 24,500 indirectly and contributes over 50% of all Irish exports, making Ireland the second largest pharmaceutical exporter in the world.
Advancing links between academic research institutions and the pharmaceutical industry
Against this backdrop, the SSPC has been established to advance research links between academic research institutions and the (bio)pharmaceutical industry, both in Ireland and internationally. The SSPC is a unique collaboration between some of the biggest names in the global pharmaceutical sector, Ireland's foremost academic institutions and a host of international academic collaborators. Twenty-two industry partners, nine research performing organisations and twelve international academic collaborators contribute to the success of the centre.
Through its work, the SSPC has created a consortium of industry and academic partners in Ireland which is the most inclusive and collaborative pharmaceutical/academic partnership in the world. The Centre exists as a link between scientists and engineers, within academia and industry in Ireland and globally, to address crucial research questions that face the global pharmaceutical industry. It is jointly funded by the Irish Government, through Science Foundation Ireland and industry partners, with funding of €30 million and €10 million invested respectively.
"The SSPC is a hub for advanced pharmaceutical manufacturing excellence internationally, and it has the potential to deliver tangible economic and social benefits", said Professor Mark Ferguson, Director General of Science Foundation Ireland and Chief Scientific Adviser to the Government of Ireland. "With numerous industry and academic partners to date, I anticipate that SSPC will expand on its in-depth expertise in manufacturing methods such as crystallisation and environmentally sustainable drug synthesis, to other areas such as biopharmaceuticals. I expect that SSPC will further leverage initial Government investment through SFI, with successful applications to the EU and other funding sources, including from the private sector. The SSPC provides an opportunity for leading pharmaceutical companies to gain from significant expertise and to answer questions which are facing the corporation at a global level, in Ireland in an efficient, effective manner."
SSPC research crosses the entire pharmaceutical production chain
The research carried out by the SSPC crosses the entire pharmaceutical production chain from molecule to medicine, with the objective of gaining a better understanding of mechanisms, controlling processes, and predicting outcomes for the efficient and environmentally sustainable production of safe medicines. The aim of the SSPC is to deliver relevant solutions that address the manufacturing needs of (bio)pharmaceutical companies in Ireland and internationally, and in doing so, to build a strong pharmaceutical community and a pharma-friendly ecosystem and a dialogue between academia and industry in Ireland.
With significant expertise in crystallisation in bulk chemicals methods (in the Centre's predecessor, the Solid State Pharmaceutical Cluster), the focus of the SSPC since inception has expanded upstream into wet chemistry, including synthetic organic chemistry and biocatalysis and downstream, into advanced formulation of the active pharmaceutical ingredient (API) into a drug product. Fundamental research by the SSPC significantly increased the sector's capability to produce pharmaceutical solids with predefined characteristics including crystalline or amorphous composition, particle size, habit and morphology, tensile strength, powder flow and release properties.
SSPC work is focused on three primary strands
The SSPC currently engages with 22 industry partners and 38 principal and funded investigators, and supports 34 post-doctoral researchers and 60 PhD students. With industry partners such as Pfizer, Eli Lilly, Glaxo SmithKline, Janssen, Merck, Roche, Bristol Myers Squibb, Alkermes and Abbvie the work of the SSPC is focused on three primary strands:
Strand 1: New Frontiers in Pharmaceutical Synthesis to develop more efficient, more environmentally sustainable methods of developing active pharmaceutical ingredients.
Strand 2: Crystal Growth and Design to identify optimal ways to produce active pharmaceutical ingredients and
Strand 3: Drug Product Formulation and Manufacturing focused on developing new drug dosage formulations of the future
"The SSPC is focused on developing novel methods of efficiently producing APIs in environmentally sustainable ways," said Jon O'Halloran, General Manager of SSPC. "Working with our industry partners and partner research institutions, we are helping to solve the most pressing questions for the pharmaceutical industry worldwide, helping them to increase efficiencies, reduce costs and widen the variety of drugs and treatments available in the market."
Within these strands, the SSPC research programme is divided into nine platform projects, which aim towards the progression of the scientific state of the art; eight targeted projects which are driven by scientific challenges of specific industrial needs and two linker projects which connect the three strands above.
In terms of research areas of focus, the SSPC has recently expanded its remit into the biopharmaceutical arena, via a collaboration with seven industry partners – Allergan Pharmaceuticals Ireland, BioMarin Manufacturing Ireland Ltd., Eli Lilly and Company, Genzyme Ireland Ltd – A Sanofi Company, Janssen Biologics, MSD and Pfizer Ireland Pharmaceuticals – and three research performing organisations, the National Institute for Bioprocessing Research and Training (NIBRT), Trinity College Dublin (TCD) and Dublin City University (DCU). This new academic-industry collaboration centres its research upon single use technologies for bioprocessing, which will reduce manufacturing costs and overcome associated challenges for the biopharmaceutical industry.
Professor Kieran Hodnett, Scientific Director at SSPC explained, "Extractable and leachable compounds, arising from the interaction of culture media with disposable components within bioprocessing and the sterilisation process, represent a major concern for companies and regulators. SSPC aims to develop advanced technologies to maximise biotherapeutic production, reduced adverse effects of E&Ls and increase bioengineering capability during cell bioprocess in polymeric disposable systems. Our research is helping industry to understand the impact of E&Ls in the glycosylation process, identifying and overcoming challenges such as potential toxicity and impact on cell cultures. Biopharma represents an important area of focus for the Centre, now and into the future."
SSPC collaborates with academic institutions from around the world
Some of the projects underway within SSPC include:
The development of novel biocatalysts from naturally occurring materials, which could potentially replace more environmentally hazardous materials and reduce the number of synthetic synthesis steps;
Delivering the next generation of medicines via multi component pharmaceutical compounds for example co-crystals, which could improve the solubility of compounds;
Novel drug product design, such as hot melt extrusion or spray drying which could understand and enhance the stability of amorphous APIs, leading to significant savings for the pharmaceutical industry and greater availability of medicines;
Advancement of SSPC research into biopharma in collaboration with NIBRT, the National Institute for Bioprocessing, Research and Training and industry collaboration.
A significant success of the SSPC is its unique collaboration with international academic institutions. The Centre has strong relationships with the University of Leeds, the University of Manchester, the University of Toronto and Purdue University in Indiana, among others. This ensures that industry working with the SSPC have access to leading researchers and is ensuring that Ireland is becoming a more attractive base for international research leaders. For example, Professor Michael Zaworotko, a top international research chemist has recently joined the staff of the University of Limerick, in which SSPC is hosted, which is a significant development for the Centre, and its partners.
The commercialisation of SSPC's research is a key priority for the Centre. O'Halloran continued, "The commercialisation of SSPC's research is hugely important, with a number of very innovative SMEs emerging from, and working with, the Centre. Scale-up Systems whose internationally recognised modelling software Dynochem is being globally used by the pharmaceutical industry, are partnering with the Centre. In addition, EirGen Pharma, which works in low dosage, high potency drugs and Innopharma labs, which is focused on advanced analytics, are also partnering with the Centre. We have also seen APC Ltd. spin out from the Centre, which is focused on chemical engineering solutions and technologies to enable the streamlined development, optimisation and supply of new and existing chemical and biological entities. APC Ltd. was established by SSPC Principal Investigator Professor Brian Glennon and Post-Doctoral researcher Dr Mark Barrett, and is a very successful company."
Professor Kieran Hodnett, SSPC Scientific Director said, "Our molecule to medicine focus means that the Centre is in a position to hub engagement with leading industry partners and academic institutions both in Ireland and worldwide. Our work is identifying efficiencies and resulting in productivity gains of tens of millions of euro for Ireland's pharmaceutical industry, helping to create and retain jobs and to develop a broad knowledge –sharing base in Ireland."