Children with cancer to be offered gene testing in personalised treatment initiative
Children with cancer will be offered testing for genetic mutations in their tumours as part of an initiative to personalise children's cancer treatment…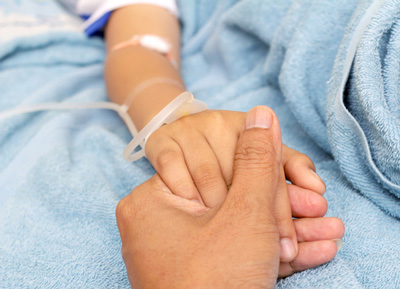 Children with cancer at leading hospitals across the UK will be offered testing for genetic mutations in their tumours as part of a new initiative to begin to personalise children's cancer treatment, the Institute of Cancer Research, London announced today.
Around 400 children with solid tumours at 21 hospitals across the country will start to receive the new genetic test, which is designed to pick up key mutations in tumours that drive cancer's growth and spread.
The initiative is the first stage of a wider programme which eventually aims to provide testing for all children with solid tumours in the UK, and to direct them into clinical trials targeting particular mutations within their tumours.
Researchers at The Institute of Cancer Research, London, and The Royal Marsden NHS Foundation Trust designed the new test, which works by sequencing 81 different cancer genes, with funding from UK charity Christopher's Smile.
Testing will begin from 2016 and take about two years. Tests will first be offered to children treated at The Royal Marsden, and then to patients at any of the other 20 hospitals in the UK which form part of the Children's Cancer and Leukaemia Group. The initial aim will be to assess the reliability and usefulness of the test in a research setting. If testing is successful, the aim is to move testing more routinely into the clinic, to allow treating doctors to formally incorporate the results in their decisions about how patients can be most effectively treated.
More clinical trials of targeted treatments needed
The ambition is to offer children the same opportunities for personalised cancer treatment that are already increasingly becoming available for adults. The testing programme will establish which mutations occur most often in children's tumours, and identify those that could be targeted by existing drugs for adult cancers. Doctors will aim where possible to use the test results to match children to clinical trials of targeted cancer drugs – although maximising this potential will require more clinical trials of targeted treatments to be set up for children.
The new initiative will be open to children under the age of 14 with solid tumours. It will not initially include children diagnosed with blood cancers such as leukaemia unless they suffer a relapse, because these cancers respond very well to the current treatments. Nor will it include older teenagers or young adults as they experience a different spectrum of tumours to children.
Commenting on the initiative, study leader Professor Louis Chesler, Professor of Paediatric Cancer Biology at The Institute of Cancer Research, London, and Consultant at The Royal Marsden NHS Foundation Trust, said: "A more comprehensive and structured approach to genetic testing to match children with cancer to specific targeted treatments could be an incredibly important step towards increasing survival. It's exciting to be testing out this new approach to genetic testing in several hundred children with cancer, in what I hope will be a staging post towards routine use of genomic information for the care of all children with cancer in the UK.
"We still face major barriers in obtaining targeted cancer drugs for children and using them in robustly designed clinical trials. But my hope is that through this and other initiatives like it, we can help to drive forward the use of targeted drugs in children, and make the case very clearly that they should be more widely available, as they have been for adults."
Karen Capel, founder and trustee of UK children's cancer charity Christopher's Smile who funded the development of the test, added: "There is an urgent unmet need to provide new treatments for those children diagnosed with the most aggressive and hard to treat cancers. We believe this gene sequencing test is the key 'foundation stone' in enabling personalised medicine for children. It will help to bring new treatments for children a step closer. We believe that children should be given access to the same tests and treatments currently available to adults."
Here, Professor Louis Chesler discusses the new initiative: