Novel radioimmunotherapy results in complete remission in preclinical colorectal cancer study
Posted: 13 June 2016 | Victoria White, Digital Content Producer | No comments yet
Researchers have unveiled a novel radioimmunotherapy that resulted in complete remission of colorectal cancer in mouse models…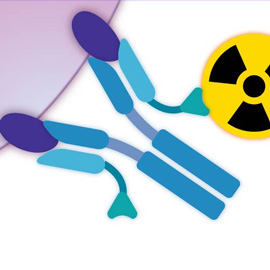 Researchers have unveiled a novel radioimmunotherapy that combines a cancer-seeking antibody with potent radionuclide agents, resulting in complete remission of colorectal cancer in mouse models.
The researchers from Memorial Sloan Kettering Cancer Center presented findings for the radioimmunotherapy at the 2016 Annual Meeting of the Society of Nuclear Medicine and Molecular Imaging (SNMMI).
Theranostic drugs are powerful newcomers in oncology's arsenal. In addition to providing targeted treatment, in many cases they double as imaging agents that can monitor the effectiveness of therapy.
Complete cures without collateral toxicity
An investigative treatment called pretargeted radioimmunotherapy (PRIT) is harnessing an antibody that attaches to the cell-surface antigen glycoprotein A33, which is hyper-expressed in the vast majority of colon cancers, whether primary or metastatic. Researchers united the anti-GPA33 antibody with radionuclide agents that deliver a powerful dose of radiation directly to the tumour. The technique was found to be entirely curative in this preliminary mouse study.
"If these results can be replicated in prospective human studies, this multi-platform approach could be used with an array of antibodies to treat a number of cancers, especially colorectal and ovarian cancers," said Sarah M. Cheal, PhD, Memorial Sloan Kettering Cancer Center.
For this study, researchers tested the efficacy of anti-GPA33 with radiotherapies using lutetium-177 benzylDOTA (Lu-177 DOTA-Bn) in mice bearing colorectal cancer grafts. In the same group of animals, the researchers were able to detect solid tumours of 10 milligrams or less during the course of a fractionated treatment regimen that achieved complete cures in all solid tumours without any collateral toxicity. This platform of theranostic radioimmunotherapy could have broad applicability. Cheal estimates that, if validated, these cancer-fighting techniques could be made available in as few as five years.