Mironid secures £4.3 million in Series A funding
Posted: 20 June 2016 | Victoria White, Digital Content Producer | No comments yet
The funding, led by Epidarex Capital, will support the Mironid's internal research and preclinical development programmes…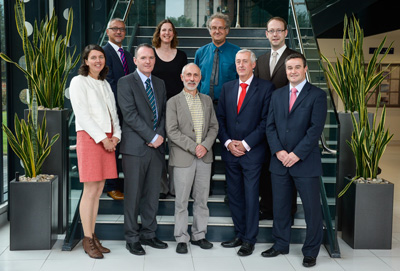 The Mironid senior team plus representatives from the University of Strathclyde and Scottish Enterprise.
Innovative drug discovery company Mironid has announced the closing of its Series A funding round of £4.3 million.
The funding, led by Epidarex Capital, will support the company's internal research and preclinical development programmes, focused on degenerative kidney disease, major inflammatory disease and cancer. The Scottish Investment Bank, on behalf of Scottish Enterprise, and the University of Strathclyde also participated in the round.
Mironid develops proprietary drug candidate molecules by modulating the activity of key phosphodiesterase 4 (PDE4) enzymes. The Company's founders include Prof Miles Houslay who has spent over 30 years investigating the mechanisms of PDE biology while consulting for many of the world's top pharmaceutical companies. Mironid was spun out of the University of Strathclyde in 2015, following initial proof of concept studies, also involving Heriot-Watt University, supported by a £0.5 million grant from Scottish Enterprise.
"A dynamic, innovative company"
Commenting on the funding, Dr Paul Rodgers, Executive Chairman at Mironid, said: "The founders of Mironid are ambitious and have shown great commitment to close this funding round. The team has a unique blend of high calibre multidisciplinary industrial experience combined with top tier academic expertise in cell signalling research. The funds raised will allow the rapid acceleration of the Company's programmes to enable further product pipeline development."
Sinclair Dunlop, Managing Partner at Epidarex Capital, added: "Epidarex is delighted to lead the Series A funding of Mironid, a dynamic, innovative company with the opportunity to identify and validate proprietary lead candidate molecules, leading to the development of best-in-class therapeutics to radically improve the treatment of chronic diseases."
Dr David McBeth, Director of Research and Knowledge Exchange Services at the University of Strathclyde, said: "Mironid is a really exciting company, built by a first-class team of scientists. We look forward to it delivering ground-breaking therapies from its R&D programmes and contributing to economic development in Scotland."