OBN celebrates the stars of UK Life Sciences
OBN revealed last night the winners of its Annual Awards celebrating the best of UK life sciences – the innovators, fundraisers and dealmakers who underline the pre-eminence of the UK sector in the global marketplace…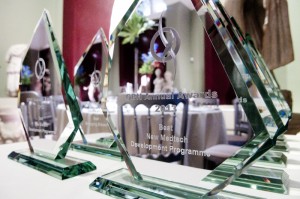 OBN revealed last night the winners of its Annual Awards celebrating the best of UK life sciences – the innovators, fundraisers and dealmakers who underline the pre-eminence of the UK sector in the global marketplace.
Welcoming 150 senior industry and academic representatives from across the UK to the ceremony in the Ashmolean Museum, Jon Rees, OBN's CEO, commented: "The quality of nominees continues to rise year on year. Compiling a shortlist and picking winners gets harder. We have the opportunity to applaud the cream of successful public-private collaborations turning ideas into clinical practice, investors who take the risks and support promising projects, and the pharmaceutical companies that use their commercial skills to bring products to market."
The winners are:
Adaptimmune, Best New Biotech Development Programme Award, sponsored by J A Kemp
Adaptimmune uses unique genetic engineering technology to create T-cell receptors which target specific cancer cells. The lead candidate is in US clinical trials in several indications including multiple myeloma, melanoma, sarcoma and ovarian cancer. Interim results presented at the annual meeting of the American Society of Hematology in December 2013 reported encouraging results with multiple myeloma patients participating in a Phase I/II clinical study. In June this year, Adaptimmune announced a strategic collaboration and licensing agreement with GlaxoSmithKline for the development and commercialisation of this programme.
Nightstar, Best Emerging Biotech Company, sponsored by Penningtons Manches LLP
This award recognises emerging biotech companies, less than five years old, which – in the judges' opinions – have the most promise. In January Oxford University spin-out Nightstar received £20m from Syncona, the Wellcome Trust venture arm, to develop gene therapies for degenerative eye conditions. Its lead programme addresses a rare inherited cause of blindness – choroideremia – affecting around 1 in 50,000 people.
Circassia, Best Emerging Biotech Fundraiser, sponsored by WilmerHale
In choosing the winner, judges considered the amount raised as well as the quality of the company's development programme. In March this year Circassia, an eight year old Imperial College London spinout, raised £200m – listing at the top of its range and valuing the company at £581 million, representing the UK's largest biotech stock market listing in more than a decade. Circassia's cat allergy vaccine is in Phase 3 trials.
Astex, Best Biotech Dealmaker, sponsored by World Courier
This award recognises biotech companies with an estimated valuation less than £1bn which are judged to have concluded the best deal in the past 15 months. Astex, recognized as a leader in fragment-based drug discovery, was acquired in October 2013 by Japanese firm Otsuka Pharmaceutical for about $886m. The deal promised to enhance Astex's capacity to develop new therapeutics for cancer while allowing Otsuka to tap into its promising pipeline of potential new drugs for leukaemia, prostate, lung and ovarian cancers.
Isansys, Best New Medtech Development Programme, sponsored by Milton Park
Isansys is a provider of real-time physiological patient monitoring, delivering strongly predictive information direct to clinicians. Earlier this year, Isansys won two national Small Business Research Initiative healthcare contracts, enabling the company to expand its technology into the areas of patient safety and cancer. The company recently announced it will extend its CE-marked surveillance system to provide warning of sepsis in home-based patients. This could benefit some of the 20,000 UK patients a year undergoing chemotherapy who are at increased risk of developing this life-threatening complication.
Intelligent Ultrasound, Best Emerging Medtech Company, sponsored by The BioHub Birmingham
Intelligent Ultrasound develops and sells products and services that make medical ultrasound imaging a more effective diagnostic tool and help hospitals provide a better quality, more consistent ultrasound imaging service. Medical imaging software solutions, designed for use in ultrasound scanners, such as those in monitoring foetal growth and image-guided surgery systems, significantly improve the quality, field of view and diagnostic power of 3D/4D ultrasound scans.
Oxford Immunotec, Best Emerging Medtech Fundraiser, sponsored by James Cowper LLP
Limited to companies with an estimated valuation of less than £250m, this year's recipient is Oxford Immunotec which completed a $74m listing on NASDAQ in November 2013. The first diagnostic product developed using this global company's T-SPOT technology platform is a TB test for latent Tuberculosis (TB) infection. T-SPOT.TB test is approved for sale in over 50 countries, including the United States, Europe, Japan and China and included in clinical guidelines for TB screening in 17 countries, including the United States, several European countries and Japan.
Oxford Gene Technology, Best Medtech Dealmaker, sponsored by OBN Medtech Advisory Group
Oxford Gene Technology (OGT) is judged to have made the best medtech deal – its March 2014 acquisition of Cambridge-based Cytocell – in the 15 months prior to the award. Cytocell is seen as an excellent strategic fit with OGT, bringing innovative DNA technology for the detection of gene rearrangements related to inherited disease and cancer, an excellent team and a strong brand with the reputation for high-quality products. The enlarged OGT is well positioned for growth across new geographical markets and customer application areas.
Imperial Innovations, Highest Impact Investor, sponsored by Akesios Associates
Imperial Innovations focuses on commercialising leading UK academic research sourced from the Golden Triangle between Cambridge, Oxford and London. Innovations received the Highest Impact Investor award for its significant contribution to UK life science company growth, bridging the early funding gap with the following investments in the last 15 months: Mission Therapeutics (£2.5m); Pulmocide (£1.8m); TopiVert (£5.9m); Crescendo Biologics (£3.3m); and Abzena (£10.5m). Seed investments were made in Puridify (undisclosed) and Oxford Biotrans (£0.6m).
Shire, Best Pharma BD&L Team, sponsored by EY
Once again, Shire's Business Development and Licensing team scooped the award, this year for the pace and strength of its activities. Shire's been on the acquisition trail, bringing in ViroPharma (Jan 2014; $4.2bn), Lumena Pharmaceuticals (May 2014; $260m) and Fibrotech (May 2014, $75m). Its portfolio was expanded by licencing AGT-182 from ArmaGen (Jul 2104; $225m) and rebalanced by selling distribution rights for Estrace to Trimel Pharma (July 2014; $41m) and Dermagraft to Organogenesis (Jan 2014; $300m). The business was strengthened across the board by inking partnerships with Prasco Labs (Fosrenol distribution; Oct 2013), Santaris Pharma (LNA Drugs; Aug 2013) and arGEN-X (drug discovery partnership; June 2014).
Cranfield University, Bedford Hospital NHS Trust Best Public-Private Collaboration, sponsored by Oxford Academic Health Science Network
The cream of British talent worked together to develop the OsteoVibe, a mobile, automatic, low cost, radiation free and reliable diagnostic tool for osteoporosis/bone fractures in primary care settings. At its core, OsteoVibe uses non-invasive bone excitation technology which – unlike other bone diagnostics – poses no additional health risks to patients. The technology has been experimentally validated under laboratory conditions at Cranfield University. Once the engineering prototype has been completed, Bedford Hospital NHS Trust will conduct clinical studies.