Inovio selected by DARPA to lead a team to expedite development of novel products to prevent and treat Ebola
Posted: 8 April 2015 | Victoria White
Inovio has been selected to receive a grant from DARPA to lead a collaborative team to develop multiple treatment and prevention approaches against Ebola…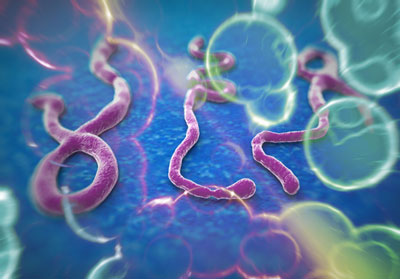 Inovio Pharmaceuticals has announced that the company has been selected to receive a grant from the Defense Advanced Research Projects Agency (DARPA) to lead a collaborative team to develop multiple treatment and prevention approaches against Ebola.
Inovio is the prime contractor on the DARPA program. Other collaborators are: MedImmune, the global biologics research and development arm of AstraZeneca; GeneOne Life Sciences and its manufacturing subsidiary, VGXI, Inc.; and Professor David B. Weiner, PhD, professor of Pathology and Laboratory Medicine at The Perelman School of Medicine at the University of Pennsylvania, Emory University and Vanderbilt University.
The first patient is expected to be dosed with Inovio's DNA-based vaccine in Q2 2015
The Inovio-led consortium is taking a multi-faceted approach to develop products to prevent and treat Ebola infection. These programs include development and early clinical testing of:
A therapeutic DNA-based monoclonal antibody product dMAb™ against the Ebola virus infection. This promising new technology has properties that best fit a response to the outbreak in that they could be designed and manufactured expediently on a large scale using common fermentation technology, are thermal-stable, and may provide more rapid therapeutic benefit.
A highly potent conventional protein-based therapeutic monoclonal antibody (mAb) product against Ebola virus infection.
Inovio's DNA-based vaccine against Ebola, with the first patient expected to be dosed in Q2 2015. In previously published preclinical testing, Inovio's DNA-based Ebola vaccine protected 100% of vaccinated animals from death and sickness after being exposed to a lethal dose of the Ebola virus.
Pathogen specific mAbs have emerged as a viable approach for immunoprophylaxis against Ebola and other pathogens where anti-viral drugs or vaccinations are not currently available. mAbs can be administered either just before or just after exposure to the pathogen and serve to combat the immediate effects of the pathogen. Unlike vaccines, immunoprophylaxis by mAbs does not develop long term immune memory. Therefore an ideal approach would include the administration of a mAb for immediate protection and a vaccine to train the immune system for longer term protection.
Previous Ebola research studies have shown that monoclonal antibodies (such as ZMapp) could be useful in treating patients who have been infected with Ebola virus by selectively binding and neutralizing the virus in the body. Inovio is already developing dMAb products against influenza and antibiotic resistant bacteria as a subcontractor under a separate DARPA funded grant.
The proposed effort will cover pre-clinical development costs for the dMAb products and protein mAb candidates as well as GMP manufacturing costs and the phase I clinical study costs with the three product candidates. MedImmune will manufacture the protein mAbs and the Inovio-GeneOne/VGXI team will manufacture the DNA based products. The academic partners are leading Ebola research and medical centers at the front edge of the discovery efforts for highly potent anti-Ebola mAbs. The funding period is over two years and covers a base award of $21 million and an option award of $24 million. The development proposal includes a second option of $11 million to support additional product supply and clinical development activities. The options are contingent upon the successful completion of certain pre-clinical development milestones.
The Inovio-led consortium has employed an aggressive development timeline for the Ebola products
Due to the global concerns and immediacy of need, the consortium has employed an aggressive development timeline for the products by developing these three options in parallel, resulting in an acceleration of the initial clinical evaluation. None of these products will contain any Ebola virus or viral particles.
Dr. J. Joseph Kim, President & CEO of Inovio, said, "We thank DARPA for their confidence in Inovio to address this medical crisis by simultaneously developing a preventive Ebola vaccine and treatment for those infected. We are advancing against this virus on all fronts. The development of the novel DNA-based monoclonal antibodies hold the greatest potential benefit in their speed of manufacturing, dosing and stability, and we are pleased to add them to our strong product pipeline."
Dr. Niranjan Y. Sardesai, COO of Inovio and the DARPA Ebola Program Team Leader, said, "This is an exciting government–academia–industry partnership bringing together global product development experts to rapidly develop and test novel dMAb products against Ebola. Our optimized DNA based product programs are uniquely placed to target both rapid immunity through delivery of dMAb products as well as long-term immunity via DNA vaccination. Success in any one of the three parallel approaches by the team will be a boost to the global efforts against the Ebola virus."
For more information about Inovio, please visit www.inovio.com.