New collaboration to interpret human proteome information
Posted: 25 September 2015 | Victoria White
The team of researchers will comprehensively study human proteomes with the aim of turning the vast amount of molecular information into designs for new reagents, equipment, workflows, assays and software…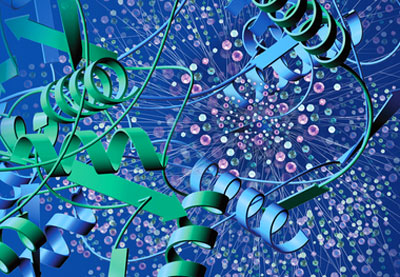 The Technical University of Munich (TUM), JPT Peptide Technologies (JPT), SAP, and Thermo Fisher Scientific have partnered up to translate human proteome information into new designs for molecular and digital tools with the potential for use in drug discovery, personalised medicine or life science research.
Since the decoding of the human genome, the application of individualised genome profiling has increased. However, a personalised and deep analysis of genes at the functional protein level is currently inaccessible.
Recently published drafts of the human proteome by TUM, JPT and SAP led the partners to form a strategic consortium in order to explore and exploit this human proteome information systematically.
Within the scope of this project, the team of researchers will comprehensively study human proteomes with the aim of turning the vast amount of molecular information into designs for new reagents, equipment, workflows, assays and software that the team anticipates will enhance the application of proteomics in both science and medicine.
Collaboration to make research findings publically available to foster global use of the data
"This consortium, comprised of academia and industry, is in a unique position to make several important contributions to the field of proteomics," commented Bernhard Kuster, Chair of Proteomics and Bioanalytics at the TUM, and Coordinator of the project. "This project will allow us to represent the human proteome by tandem mass spectra of synthetic peptides, which will alleviate some of the current issues with protein identification and quantification. We plan to develop new and improve upon existing hardware, software, workflows and reagents for proteomics.  We will also make our research data publically available in ProteomicsDB, a web accessible in-memory database dedicated to the understanding of the human proteome, in order to foster global use of data, sharing and collaboration."
Holger Wenschuh, CEO at JPT, said, "In this collaborative framework, JPT will establish workflows that are projected to contribute over 1 million peptide standards addressing sequence diversity and post-translational modifications of the human proteome. This will not only have a massive impact on the future of proteomic assays; but should also pave the way for others to establish efficient peptide tools for truly personalized immune monitoring applications."
Thomas Moehring, Director Hardware Platform Management LS/MS at Thermo Fisher Scientific, added, "We are very excited to be a partner in this research consortium, which is taking the crucial next step of translating the human proteome draft – which was published last year using Thermo Scientific Orbitrap technology – into a comprehensive set of proteomic tools. This project team plans to make state-of-the-art proteomics techniques accessible to a wide spectrum of biologists and clinical researchers."