Immunology Screening on the iQue Screener
About this webinar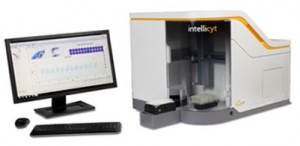 The iQue® Screener is a flexible assay platform for the analysis of immune cell health and function. This webinar will demonstrate how the iQue Screener automates some of the most common assays for immune-modulators and immunotherapy to enable high throughput screening or large combinatorial experiments. The webinar will also explore more complex assays that utilise the iQue Screener's multiplexing capabilities to combine multiple assays into a single read that creates unique profiles of immune-related effects.
The following assays will be covered:
Cell proliferation
Immunophenotyping
Cytokine detection
Cell-mediated killing
This webinar was provided by Intellicyt
IntelliCyt Corporation is the market leader in suspension-cell analysis platforms for immunology and immuno-oncology profiling, antibody discovery, and screening of immune targets in drug discovery and life science research.
IntelliCyt's iQue Screener can rapidly and cost effectively profile physiologically-relevant model systems for phenotypic endpoints using multiplexed cell and/or bead-based assays.
Our easy-to-use instruments, software, and reagent kits are optimized to work together and designed to conserve precious samples, use less reagent, and minimize time-to-answer. Our high-content solution offers fast and rich per-cell information that delivers the deep insight that complex biology demands.
The top 10 pharmaceutical companies and premier biotechnology and academic institutes, including leaders in immuno-oncology, have made the iQue Screener platform an integral part of their daily research.
View more content from Intellicyt