The next wave: going beyond CAR T cells with cell-based therapies
In this article, Dr Daniel Teper and Dr Chris Arendt explore cellular therapies for cancer that provide an alternative to chimeric antigen receptor (CAR) T-cell therapy. In these Q&As, they outline their important work in immuno-oncology.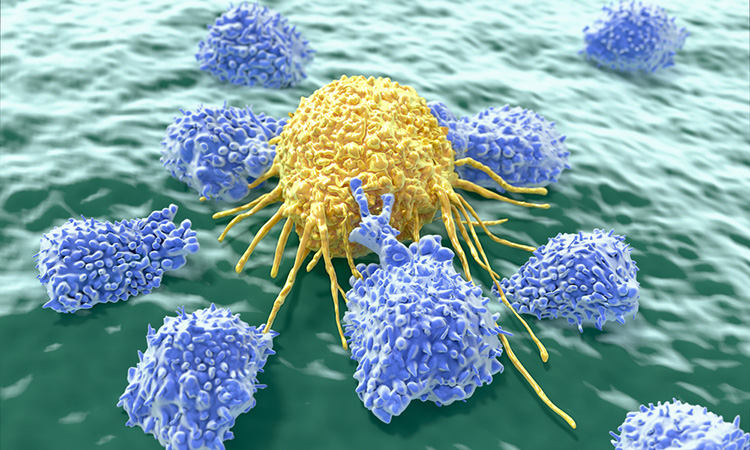 Can you explain how your NK cell therapy platform works?
Natural killer (NK) cells play a key role in the innate immune system by rapidly detecting and killing cancer as well as virally-infected cells, thereby acting as the first line of defence against them.
In patients with cancer, the number of functional NK cells is usually lower than in healthy patients. Our platform allows us to both activate NK cells through our NK cell engager antibodies and augment the number of NK cells present in the body by injecting our induced pluripotent stem cell (iPSC)-derived NK (or iNK) cells depending on the patient's needs.
Additionally, we can improve the function and persistence of these iNK cells by engineering them using TALEN® gene editing.
The iNK cells can then be even more efficiently directed towards tumour cells either by being combined with our Flex-NK™ cell engager antibodies or through the addition of chimeric antigen receptors on our iNK cells, which helps them find their targets by binding to specific proteins on the surface of those cancer cells.
Can you outline your pipeline?
Our first franchise and lead programme targets GPC3, which is expressed in 75 percent of patients with hepatocellular carcinoma (HCC), the most common type of liver cancer. The current best standard of care has a partial response rate of less than 30 percent and progression-free survival of 6.8 months, resulting in a high unmet medical need. Our first product for HCC is a GPC3-targeted Flex-NK cell engager antibody. We are also developing a GPC3-targeted Flex-NK cell engager pre-complexed with iNK cells, unedited and edited iNK cells which can be combined with the Flex-NK cell engager and a GPC3 CAR-iNK cell.
Our second franchise focuses on CD38, which is expressed in multiple myeloma and other haematological malignancies, through our Flex‑NK cell engager, either alone or in combination with iNK cells.
We have an additional programme targeting EGFR with an intracranial administration of CAR-iNK cells for the treatment of glioblastoma.
What are some of the main challenges with CAR T cells? Why might other cell therapies present an alternative?
CAR T cells are exceptionally effective in select patients. However, their complex manufacturing with limited supply, high cost and safety profile (particularly the risk of cytokine release syndrome) requiring specialised care present significant challenges and ultimately restrict access. In contrast, CAR-NK cells appear to be safer, are available on demand and are manufactured more easily and at a lower cost, making them an option for outpatient administration including potentially multiple doses and multiple cycles.
What are Cytovia's next steps?
Cytovia has now validated the pre‑clinical safety and efficacy of its Flex-NK cell engagers and iNK cells and is looking forward to becoming a clinical stage company in 2023.

Dr Daniel Teper is the Co-Founder, Chairman & Chief Executive Officer of Cytovia Therapeutics. Previously, he was the Founder and CEO of Immune Pharmaceuticals, which he listed on NASDAQ and also served as New York-based Managing Partner (Head of North America) at Bionest Partners. Daniel is a Strategic Advisor to Steba Biotech and has held general management positions at GlaxoSmithKline and Sanofi. He holds a Doctor of Pharmacy degree from Paris XI University and an MBA from INSEAD, where he was the J. Salmon scholar.
Can you outline your pipeline?
Takeda's oncology pipeline focuses on novel strategies that leverage the power of the immune system, with a focus on innate immunity. The innate immune system serves as the body's first defence mechanism against disease and helps to enhance the ability to recognise tumours. Our strategy has prioritised two exciting areas for oncology research and development that we call 'cold‑to‑hot' and 'redirected immunity'.
Our cold-to-hot approaches are based on the premise of tapping into powerful immune mechanisms, particularly those involving innate immune cells and pathways, to convert so-called 'cold' tumours, which are immunosuppressed, into ones that are 'hot' and allow for a productive antitumour immune response.
Our redirected immunity approaches are focused on cell engager and cell therapy modalities that mobilise immune cells, including gamma-delta T cells and NK cells, to carry out broad attacks against tumour cells.
With these two approaches, we hope to expand upon the remarkable results that have been achieved with the first wave of cancer immunotherapies by broadening the patients who can benefit.
Can you explain how your gamma-delta T-cell platform works?
Our gamma-delta T-cell therapy platform includes technologies designed to generate both blood‑ and tissue-derived allogeneic immunotherapies for the treatment of haematologic malignancies and solid tumours. Both approaches have enabled the creation of highly active and selective non-engineered and genetically engineered allogeneic cell therapy candidates, which demonstrate cellular activity and tumour cell killing capacity.
What are some of the main challenges with CAR T cells? Why might other cell therapies present an alternative?
CAR T-cell therapies have validated the potential of deploying the immune system to target and attack tumour cells, especially haematologic malignancies. Currently approved CAR T-cell therapies use individualised, patient-derived cells and as a result are not readily available to many patients. The process utilises T cells which have been isolated from a single patient, engineered to express a specific tumour-targeting CAR and then reinfused into the same patient. Certain patient populations have benefited greatly from currently approved CAR T-cell approaches, which have advanced the entire field forward. However, they still have several limitations, including global accessibility, cost, safety concerns and barriers resulting from prior anticancer treatment.
Takeda is developing allogeneic, off-the-shelf cell therapies – including gamma-delta T cell and NK cell approaches with unique innate immune biology that may have advantages in difficult to treat cancers. These approaches have the potential to reduce manufacturing complexity and deliver safe and efficacious treatment to more patients at the time it is needed to ensure optimal care.
What are some of the advantages of gamma‑delta T-cells over CAR T cell therapies?
Traditional CAR T-cell therapies have shown success in haematologic malignancies, but solid tumours pose additional challenges that warrant the exploration of other cell types. For example, certain gamma-delta T cells are enriched in solid tumours where they correlate with patient outcomes. The innate immune features of gamma-delta T cells may bring additional benefit for difficult to target tumours, including solid tumours.

Dr Chris Arendt is Head, Oncology Cell Therapy and Therapeutic Area Unit at Takeda. Based at Takeda's Cambridge, Massachusetts, R&D campus, Chris is responsible for oversight of Takeda's global Oncology Development portfolio. Since joining Takeda in 2015, he has helped reshape Takeda's oncology pipeline with a strong network of global collaborators, emphasising emerging science leveraging immunological modalities and mechanisms towards curative-intent cancer medicines. Chris is a PhD Immunologist who carried out postdoctoral training with Dan Littman at the New York University Medical Center. Prior to joining Takeda, Chris spent more than 13 years at Sanofi, where he led global teams advancing novel immunotherapies for cancers and inflammatory diseases.