Developing state-of‑the‑art CAR T-cell therapy for cancer treatment
In this Q&A, Dr Frank Neumann speaks about Kite Pharma's work with chimeric antigen receptor (CAR) T-cell therapy and how the company is working to progress this next‑generation modality even further to help treat cancer patients.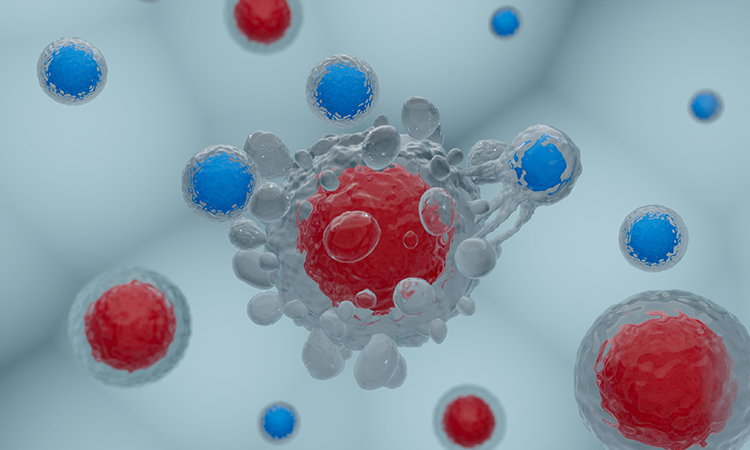 How is Kite Pharma leading the way in the cell therapy space against cancer?
Kite is the only company dedicated exclusively to the research, development, manufacturing and commercialisation of cell therapy on a global scale, which means that all functions at Kite are focused on delivering this highly specialised treatment to thousands of patients in need. We are harnessing the power of cell therapy to transform cancer treatment today and to build the next generation of cell therapies for tomorrow – all in the ultimate pursuit of potentially curing as many patients as possible.
Earlier this year, Kite received US Food and Drug Administration (FDA) approval of the first CAR T-cell therapy for second-line large B-cell lymphoma (LBCL), after demonstrating superiority over decades-long standard of care, which consists of high-dose chemotherapy and stem cell transplant. This approval heralds a paradigm shift for how LBCL is treated and is fundamentally changing the way people think about cancer treatment for advanced blood cancers.
Can you describe Kite Pharma's CAR T-cell therapy pipeline?
Kite now has the largest proprietary repository of data in cell therapy, which we are using to advance our knowledge of product efficacy and safety and to support future clinical study designs and indications. We are conducting ongoing studies of our approved CAR T-cell therapies in addition to Phase I studies of the CAR T-cell therapy candidate KITE‑222 in relapsed/refractory acute myeloid leukaemia and KITE-363, our first dual-targeting CAR T-cell therapy candidate in LBCL. Our pipeline includes research to discover novel ways to improve patient response to cell therapy, different cell therapy modalities and our teams are working hard to identify ways to reduce our already industry-leading manufacturing turn-around time so patients can get their therapies faster.
In parallel with our internal R&D efforts, we remain equally receptive to enriching our pipeline through external innovation where we can leverage the unique capabilities of Kite to catalyse and accelerate breakthroughs in science. We see cell therapy research as a team approach – we have to work together if we want to advance quickly and we have some of the top industry talent working towards this common goal.
What are some of the biggest advantages to using CAR T cells to treat cancer?
CAR T-cell therapy is a custom-made, one-time treatment that engineers a patient's own blood cells and harnesses their immune system to treat certain kinds of blood cancer. This is truly an individualised medicine with curative intent. One of the key advantages of CAR T-cell therapy as opposed to other forms of cancer treatments is the short duration of treatment – CAR T-cell therapy is administered with a single infusion and most patients have a much faster recovery time than they would with chemotherapy.
Studies have also shown that CAR T-cell therapy can help patients live longer without their cancer progressing. Because CAR T cells stay alive in the body, they may be able to find and attack lymphoma cells if a cancer returns months or years later. Follow-up data from our pivotal ZUMA-1 trial demonstrated an unprecedented five-year overall survival rate of 42.6 percent following a single infusion of CAR T-cell therapy. The life expectancy of this patient population prior to CAR T-cell therapy would have been about six months.
There is also a quality of life factor for patients. Patient reported outcome data from our Phase III ZUMA-7 trial showed that treatment with CAR T cells resulted in clinically meaningful improvement in quality of life over standard of care, specifically faster recovery to pre-treatment quality of life with CAR T-cell therapy compared with standard of care.
What are some of the lessons that can be learnt from using CAR T cells against haematological cancers?
In the last five years alone, we have seen momentous transformation in cell therapy – moving from the early days of treating a few hundred patients and the perception of this treatment being almost like science fiction, to scientific reality today where we are treating thousands of patients with haematological cancers. Despite CAR T-cell therapies being available for the past five years, potentially eligible patients are severely underserved with only about two out of 10 patients who are eligible or could benefit from CAR T-cell therapy making it to an authorised treatment centre for evaluation.
We are working to improve this low awareness around CAR T-cell therapy and are hopeful to see improvements to the health care system that will make it more seamless for patients to navigate their treatment journey.
We know that collaboration within the healthcare system is critical to maximise the potential of the currently approved cell therapy products for patients.
Can we develop CAR T cells against solid tumours? What are the challenges in this area?
Solid tumours act very differently than blood cancers. The biggest challenges we face in this area are centred around tumour targeting, tumour-induced immunosuppression, genomic instability and tumour evasion mechanisms. In short, we are competing against multiple inhibitory factors produced by many different cells involved in the immune response – tumour cells, stromal cells and other immune cells – just to kill a single tumour cell. Understanding these factors and applying the most effective countermeasures against them will be critical to delivering cell therapies that can combat solid tumours. This is some of the future frontier for CAR T-cell therapy as well as potentially using this platform to treat other diseases outside of cancer.
What is next on the horizon for CAR T cells?
Next-generation therapies are advancing in the clinic, yielding valuable insights for potential patient benefit in the future. While a large proportion of patients who respond to treatment maintain durable responses over five years, we are working on next-generation CAR T-cell therapies that will hopefully help the patients who we see do not respond today. Kite has the benefit of a decade of experience in this space and being 100 percent dedicated to cell therapy and its promise for potentially curing certain diseases.
What are Kite's next steps in the cell therapy space?
At Kite, we put patients first and we know that our innovation can only have impact if it reaches patients at scale. Our top priority is making sure that every patient who can benefit from CAR T-cell therapy has access to this therapy as early as possible. More broadly, we are focused on bringing CAR T-cell therapy to patients earlier in their course of treatment, broadening the use of this modality across haematological malignancies (for example, in acute myeloid leukaemia and acute lymphoblastic leukaemia) and improving efficacy with rapid and reliable manufacturing.
With every piece of new research and every piece of real-world evidence where we see patients benefiting, we inch closer to accomplishing our goal of changing the way cancer and potentially other diseases are treated through cell therapy.

Dr Frank Neumann is Senior Vice President & Global Head of Clinical Development at Kite Pharma. Before joining Kite, Frank was Chief Medical Officer at Verastem, Inc. (also known as Verastem Oncology). Prior to Verastem, he was Vice President, Head of Oncology Clinical Research at bluebird bio, where he led planning and execution of oncology research asset strategies from pre-clinical through submission across solid tumour and haematological indications. Previous to bluebird bio, Frank served as clinical development head for all of Takeda Pharmaceuticals cell therapy approaches globally from proof-of-concept to Phase I evaluation. In addition to his extensive industry experience, he was a research scholar at the University of Texas MD Anderson Cancer Center and is currently an Assistant Professor at the Heinrich Heine University in Düsseldorf, Germany. He received his MD from the Heinrich Heine University and his PhD from the Rheinische-Friedrich-Wilhelm University, Germany.