Allied-Bristol Life Sciences appoints Satish Jindal to lead the discovery of drug candidates from leading academic institutions
Allied-Bristol Life Sciences today announced that Satish Jindal, Ph.D., formerly Vice President of R&D within Bristol-Myers, has been appointed to lead the company's efforts to identify and foster development of biopharmaceutical innovations from top U.S. university research institutions…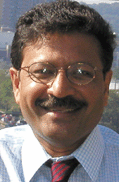 Satish Jindal
Allied-Bristol Life Sciences LLC, a jointly owned enterprise between Allied Minds (LSE: ALM) and Bristol-Myers Squibb Co., today announced that Satish Jindal, Ph.D., formerly Vice President of R&D within Bristol-Myers, has been appointed to lead the company's efforts to identify and foster development of biopharmaceutical innovations from top U.S. university research institutions.
Jindal recently headed up Bristol-Myers' research and development center in Bangalore, India, that focuses on discovery and early development of drug candidates in several disease areas, including oncology, autoimmune diseases and fibrosis. The center, called Biocon Bristol-Myers Squibb Research & Development Center (BBRC), has about 575 scientists who have the expertise to conduct drug discovery and early stage drug development, and have successfully delivered several clinical candidates, contributing to the Bristol-Myers R&D pipeline.
Under Jindal's leadership, Allied-Bristol Life Sciences will have access to the scientific expertise from Bristol-Myers and BBRC, as well as the discovery and development resources offered at BBRC. Allied-Bristol Life Sciences currently has more than 100 opportunities under consideration.
"We have a unique opportunity to create novel medicines in partnership with Bristol-Myers Squibb," said Jindal, who will be based in Boston. "Through this innovator model of Allied-Bristol Life Sciences, we can fill a critical gap that exists in translating highly important scientific discoveries from leading academic research institutions."
Jindal joined Bristol-Myers Squibb in 2011, and was part of the team that collaborated with Allied Minds to create Allied-Bristol Life Sciences earlier this year. Jindal's interest stems from his own experience forming and building biotechnology companies, including Vedantra Inc., an immunotherapy company that he co-founded based on intellectual property from the Koch Institute at the Massachusetts Institute of Technology (MIT); Verastem Inc., a NASDAQ-listed cancer stem cell company that he co-founded with researchers from the Whitehead Institute, the Broad Institute and MIT; and NeoGenesis Inc., a drug discovery company that was acquired by Schering-Plough in 2005. Jindal was a Vice president and Site Head at Schering-Plough Research Institute in Cambridge, Massachusetts from 2005-2008 and also worked in Business Development at UCB pharma in UK. Jindal did his postdoctoral work at the Whitehead Institute at MIT and at McMaster University in Hamilton, Ontario, Canada, and received a Doctorate degree in Biochemistry from Punjab University in India.
"Satish Jindal has a strong track record of successfully starting and building biotechnology companies based upon scientific discoveries which can lead to new medicines for the future," said Chris Silva, Chief Executive Officer of Boston-based Allied Minds. "We are pleased to have him apply his vision and experience towards the success of Allied-Bristol Life Sciences."
Allied Minds and Bristol-Myers established Allied-Bristol Life Sciences to work with university researchers to identify discoveries that have promising therapeutic and commercial potential, and to support the research and development needed to take these early-stage opportunities from initial feasibility to pre-clinical candidacy. Once a program succeeds in identifying a pre-clinical candidate, Bristol-Myers will have the option to acquire the company from Allied-Bristol Life Sciences under pre-agreed terms.