New study shows UK public are largely unaware of stem cells as the potential uses are still being realised
Posted: 9 October 2014 | On Broadcast
18 years since the first cord blood transplants were performed in the UK, public knowledge on this life-saving process is still sorely lacking. A study of over 4,000 people found that nearly a third (32%) of Britons did not know you can store umbilical cord blood and tissue, while the vast majority (85%) agreed there is a lack of awareness…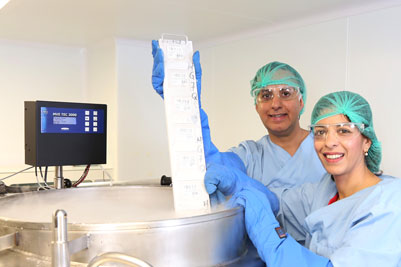 For patients with leukaemia – and other blood conditions – stem cell transplants can mean the difference between life and death.
But 18 years since the first cord blood transplants were performed in the UK, public knowledge on this life-saving process is still sorely lacking. A study of over 4,000 people found that nearly a third (32%) of Britons did not know you can store umbilical cord blood and tissue, while the vast majority (85%) agreed there is a lack of awareness.
The YouGov research – commissioned by Smart Cells – found that this resulted in a major shortage of stem cells in the UK;  only 9% of patients stored cord blood when they gave birth; 2% privately and 6% donated to the NHS.
Scientist continue to explore whether stem cells can be used to treat other diseases, such as diabetes, heart disease and even reversing blindness, although at present these treatments are still in the research stage. However it is impossible to do any treatment without the raw material. The message is simple: store it, donate it but don't waste it.
Last year, the government invested millions into NHS stem cell services. It is estimated that 400 patients each year miss out on treatment due to a lack of suitable stem cell donors.  Yet the study found that only 3% of parents had discussed storage options with a healthcare professional.
The study also found that future of a child's health was the number one concern of parents surveyed (32%). Yet even when people were aware they could store their cells, the majority choose not to; when parents surveyed were asked what they thought would stop parents from storing umbilical cord blood and tissue over a quarter of people (26%) said having concerns it would interfere with the birth of a child and almost half (47%) were said the cost.
In reality, the process is totally risk-free and doesn't interfere with the delivery of a baby. Costs do vary, with prices for private storage ranging from £2000 – £3000, while donations to the NHS is free. However, donations the NHS Cord Blood Bank are made available for public use and are not kept specifically for individuals or their families, so there is no guarantee that donated tissue will still be available should your child get sick, although the NHS says it makes 'every effort' to find a suitable donor.
Stem cells live in most tissues.  They can replace themselves and they can replace cells in those tissues which are damaged, worn out or have just died. They're really a group of cells which enable our tissues to maintain their function.  The advantage of the stem cells obtained from the cord blood or cord tissue is that these tissues are going to be thrown away once the baby has been safely delivered.
Watch the video
The kind of conditions currently being treated with stem cells are Leukaemia, where the bone marrow is producing disease cells and we effectively need a new bone marrow, or where the bone marrow has been damaged during chemotherapy, or where the bone marrow has spontaneously failed so no longer produces the cells we need. Other sorts of conditions that are experimental at the moment, or in studies, are repairing tissues which have been damaged so heart attacks or stroke, arthritis and brain conditions such as Dementia and Alzheimer's.
In the video below Professor Mark Johnson – Professor of Clinical Obstetrics at Imperial College London and Chelsea and Westminster Hospital – gives a brief explanation on what stem cells are.
Anett Kristyak from Middlesex stored the cord blood and tissue for both her children after learning about them 10 years ago. For Anett, it was important to protect her children's future.
Shamshad Ahmed from Smart Cells International explains the process of collecting and storing stem cells at his clinic and also highlights an alternative to storing them at private banks – via the NHS.