Kymab partners with cancer immunotherapy expert on anti-cancer therapeutics
Posted: 12 January 2015 | Kymab
Combination of Kymab's unique antibody platform and cytokine technologies expected to deliver enhanced efficacy and tolerability…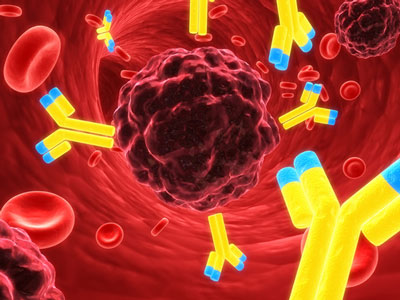 Kymab, a leader in the discovery and development of human therapeutic monoclonal antibodies generated using its unique discovery platform, today announces a collaboration with Dr Stephen Gillies. Dr Gillies is a pioneer in the field of cancer immunotherapy and inventor of immunocytokine platforms from which several molecules are currently in clinical development.
Kymab and Dr Gillies will collaborate in the development of new immunocytokine-based drugs that seek to exploit the synergistic potential of combining antibodies directed against immuno-oncology drug targets with the proven anti-tumour activity of selected cytokine molecules. The partners anticipate that this combination approach will help to develop candidates for new treatments that are both more effective and better tolerated.
Immuno-oncology-based drugs are providing transformative new anti-tumour treatment options that can offer new hope for thousands of patients suffering from a range of cancer types. One recent and particularly effective type of treatment in this field are therapeutic antibodies targeting checkpoint inhibitor mechanisms on immune cells.
"This new collaboration with one of the leading figures in immunocytokine research offers an exciting opportunity to develop new anticancer drug candidates," says Steve Arkinstall, Chief Scientific Officer of Kymab. "Our world-beating antibody discovery technology will enable us to develop novel immuno-oncology drug candidates through leveraging the synergy of antibodies targeting cancer cells fused to selected cytokines localising them to the tumour microenvironment. This in essence will give a 'double-hit' on cancer cells."
Cytokines affect the behaviour of immune cells and their dysfunction is commonly found in a wide range of diseases including infection, inflammatory conditions and cancer. Although selected cytokines show effective anti-tumour activity, their therapeutic potential has in the past been limited by their toxic side effects.
To combat this, a new class of immunocytokine drug (antibody–cytokine fusion proteins) are emerging that are expected to optimise the anticancer activity of selected cytokines while at the same time reducing their toxic side effects through targeting their immune stimulatory action to the tumour microenvironment.
"I'm delighted to work with Kymab on development of novel treatments," says Dr Steve Gillies, "work that promises to produce improved products for drug development in cancer. The programme hits the 'sweet spot' of our joint expertise and will be used to develop new and transformational drugs in this fast-moving field."
Kymab's world-class research originated in 2009 at the Wellcome Trust Sanger Institute in Cambridge, UK – a pioneer in sequencing of the human genome and leader in application of genomics for health. Kymab's transgenic human antibody platform (Kymouse™) enables it to capitalise on genomic information to discover and develop fully human, monoclonal antibody drugs, including a current focus on treatments for cancer, immune system disease and infectious disease.
"Our search for new treatments drives us to seek the best opportunities to move research forward towards drug development," says Dr Christian Grøndahl, Chief Executive Officer of Kymab. "This is a biology-based, genome-driven, rational programme that will use the power of our understanding of the immune system's ability to combat cancer and will feed new and exciting products into our pipeline."