Dispute over patent rights to CRISPR-Cas9 renewed by patent office
The patent office has declared an interference between 10 University of California (UC) patent applications.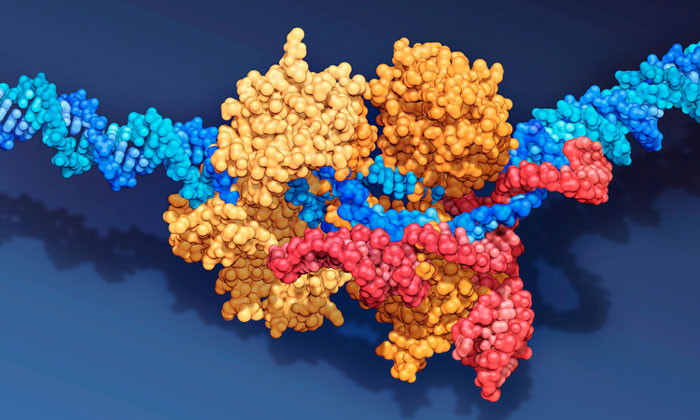 Schematic representation of the CRISPR-Cas9 system. The Cas9 enzyme (orange) cuts the DNA (blue) in the location selected by the RNA (red). Image courtesy of Carlos Clarivan/Science Photo Library/NTB Scanpix.
The Patent Trial and Appeal Board (PTAB) of the US Patent and Trademark Office (USPTO) has declared an interference between 10 University of California patent applications and multiple previously issued Broad Institute patents which jeopardises 13 of the Broad's 15 CRISPR-Cas9 US patents and one patent application.
This action also signals that the USPTO will take up the issue of who first invented CRISPR-Cas9 genome editing in eukaryotic and animal cells.
The CRISPR-Cas9 DNA-targeting technology was invented by Jennifer Doudna and Martin Jinek at the University of California (UC), Berkeley, Emmanuelle Charpentier, then of Umea University and Krzystof Chylinski at the University of Vienna.
"The initiation of this interference proceeding highlights that previous decisions involving the Broad did not determine who was the first to invent this technology, and it lays out a pathway for resolving this important issue," said Eldora L Ellison, PhD, lead patent strategist on CRISPR matters for UC and a director at Sterne, Kessler, Goldstein & Fox. "We are confident that the USPTO will ultimately recognise that the Doudna and Charpentier team hold the priority of invention specific to eukaryotic cells, as well as other settings covered by previous patents."
In September 2018, the United States Court of Appeals issued a ruling that upheld a PTAB judgment that had found no interference-in-fact between UC claims and patents already issued to Broad, stating that the claims were not directed to the same subject matter. That ruling made no specific determination regarding priority of invention of genome editing within eukaryotic cells. The UC was subsequently issued six US patents for CRISPR technologies in other cellular or non-cellular settings, with six additional applications set to issue in the coming weeks and holds more than 50 CRISPR patents worldwide.
However, this declaration affects 13 of the Broad's 15 US patents, as well as one application. The six US patents received to date by UC are not included in this interference. The UC has also received four patents from the European Patent Office (representing more than 30 countries), as well as patents in the United Kingdom, China, Japan, Australia, New Zealand, Mexico and other countries.
Based on current PTAB interference schedule, the interference is likely to be completed within two years.