Free to view detailed 3D models of SARS-CoV-2 unveiled
Collaboration between scientists, illustrators and simulators has culminated in highly detailed three-dimensional (3D) models of SARS-CoV-2.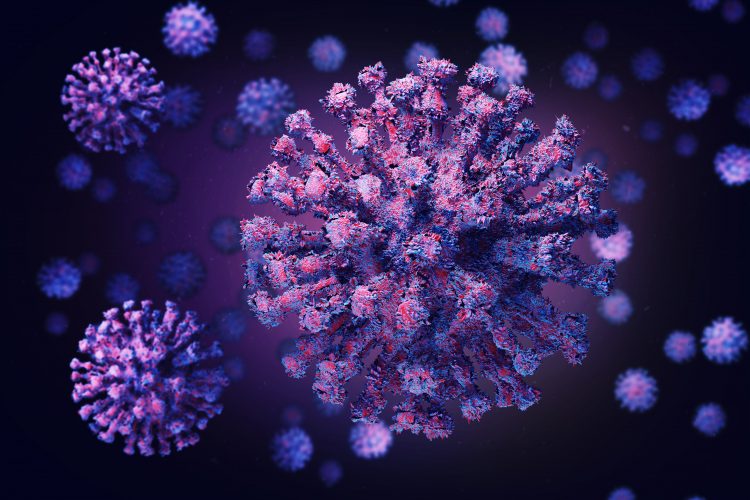 Scientists have joined forces with illustrators to create a detailed three-dimensional (3D) models of the interior and exterior of SARS-CoV-2 particles and their various components.
The collaboration includes Annabel Slater, a freelance scientific Illustrator and graduate of the MSc in Medical Visualisation and Human Anatomy at The Glasgow School of Art (GSA), scientists at MRC-University of Glasgow Centre for Virus Research (CVR) and experts from the School of Simulation and Visualisation at the GSA (SimVis).
To create the models, the cross-disciplinary team compiled information from the latest studies of SARS-CoV-2, the virus causing the COVID-19 pandemic to create a series of images and videos. These are available to view and download on the UK Research and Innovation (UKRI) COVID-19 website, Coronavirus Explained.
The project aimed to make the seemingly 'invisible' agent behind the COVID-19 pandemic tangible to the public.  Further resources, including an augmented reality educational app, are already in development for release soon.
Slater said: "I think making scientific images into something 3D, opens up a whole new world of interaction, exploration and understanding. The science of a virus can be better understood by making the virus particle into something tangible and interactable. I hope these models of the SARS-CoV-2 virus particle will help people by making the invisible visible."
Dr Ed Hutchinson, research fellow at the CVR who led the virology work in this project, said: "No single experiment can directly produce a detailed image of a SARS-CoV-2 virus particle. Not only are they incredibly small, like all viruses, but they are also irregular—every virus particle is slightly different from the next—and getting detailed information requires each component of the virus to be studied in isolation.
"Fortunately, for several years we've worked with students doing projects for the MSc in Medical Visualisation and Human Anatomy, including Naina Nair who developed one of the most detailed models of the influenza virus particles—which are also very irregular, and then found ways to use those models for science communication.
"When the current pandemic began, Annabel got in touch and asked if we could collaborate on a model of the SARS-CoV-2 virus particle. As a graduate of the MSc programme herself, she was able to quickly pick up the methods needed to build a model of the virus, working with us to interpret a set of data that combined the most up-to-date studies of SARS-CoV-2 with 'missing information' from studies of related viruses."