New company LA Cell to focus on cell-penetrating antibody therapies
Posted: 29 September 2015 | Victoria White
LA Cell has exclusively licensed technology that enables modified monoclonal antibodies to penetrate into cells and target "undruggable" disease-causing molecules…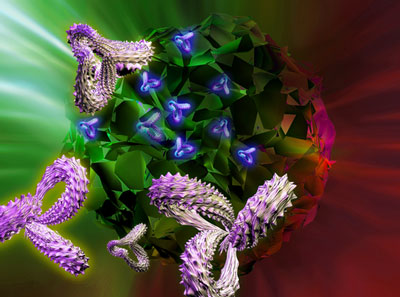 Sorrento Therapeutics has formed a new company – named LA Cell, Inc. – to focus on the development of cell-penetrating antibody therapies.
LA Cell has exclusively licensed technology developed at City of Hope that enables modified monoclonal antibodies (mAbs) to penetrate into cells and target "undruggable" disease-causing molecules.
To date, existing antibody-based therapies have benefited millions of people worldwide, but have nonetheless been limited by their inability to reach proteins inside cells, where most disease-causing proteins are located. The City of Hope technology overcomes this limitation, potentially enabling a wave of new therapeutics for treatment of cancer and other life-threatening diseases.
The technology is based on a proprietary chemical modification of mAbs that allows them to enter a cell's cytoplasm and nucleus while maintaining their ability to target specific proteins. The total deal value is in excess of $170 million for the development of these modified mAbs and includes an equity provision as well as upfront and milestone payments to City of Hope.
"City of Hope has a rich history of developing industry-changing biopharmaceutical technologies, including, most notably, the fundamental technology required for mammalian cell-based antibody production, as captured in the Cabilly patent estate," said Steven T. Rosen, M.D., Provost and Chief Scientific Officer of City of Hope. "This novel method to enable cell penetration of mAbs could be transformative for the field of biomedical research. More important, it could benefit patients worldwide who are in need of new and effective therapies. The ability to harness the inherent target specificity of antibodies against disease-causing molecules inside the cell could lead to the next generation of therapies against most severe diseases."
LA Cell positioned to develop therapies against important oncology targets
Utilising mAbs derived from Sorrento's antibody portfolio, LA Cell is positioned to develop therapies against important oncology targets, including but not limited to c-MYC, mutated KRAS, STAT3, and FoxP3. Notably, this technology can also be applied to medically-relevant targets in other indications, such as inflammation, auto-immune disorders, diabetes, central nervous systems (CNS), cardiovascular diseases and viral infections.
Henry Ji, Ph.D., President and CEO of Sorrento, said, "With the formation of LA Cell, Sorrento believes it has added the last missing piece in our antibody technology portfolio. We can now develop a breadth of antibody-based therapies that is unrivalled, such as intracellular antibodies, immune-checkpoint inhibitors, bispecific antibodies, antibody-drug conjugates (ADCs), as well as chimeric antigen receptor (CAR)-based cellular therapies. Sorrento will no longer be restricted by the antigen location for its antibody-based therapeutics and LA Cell will be able to develop a brand new class of cell-penetrating antibodies for undruggable yet most important disease targets residing within the cells. We anticipate multiple strategic alliances and licensing opportunities with biopharmaceutical partners for major disease indications."